There are numerous hosting services specialized on WordPress. Gate.com is one of the more unique ones I have dealt with so far. Let's just say that you absolutely need it for mission-critical websites.
Who is Gate.com?
Nowadays it's very easy to start a web hosting company. You just sign up for a reseller hosting account and start accepting clients. Most of those services are one-man shows that can go out of business in a blink of an eye.
Although I have not heard much from Gate.com over the years, it is quite an established company. They have offices in the US, Canada, and Europe, having 250+ full-time employees with 5+ years of experience. This alone gives me a lot of confidence that they won't suddenly disappear.
Easy Signup
For testing purposes I chose the Core plan. Signing up took me only a couple minutes.
If you don't have a domain name ready, you can also choose a wp.gate.com subdomain. You can add your own domain later. For this review, I went with hostingmanual.wp.gate.com.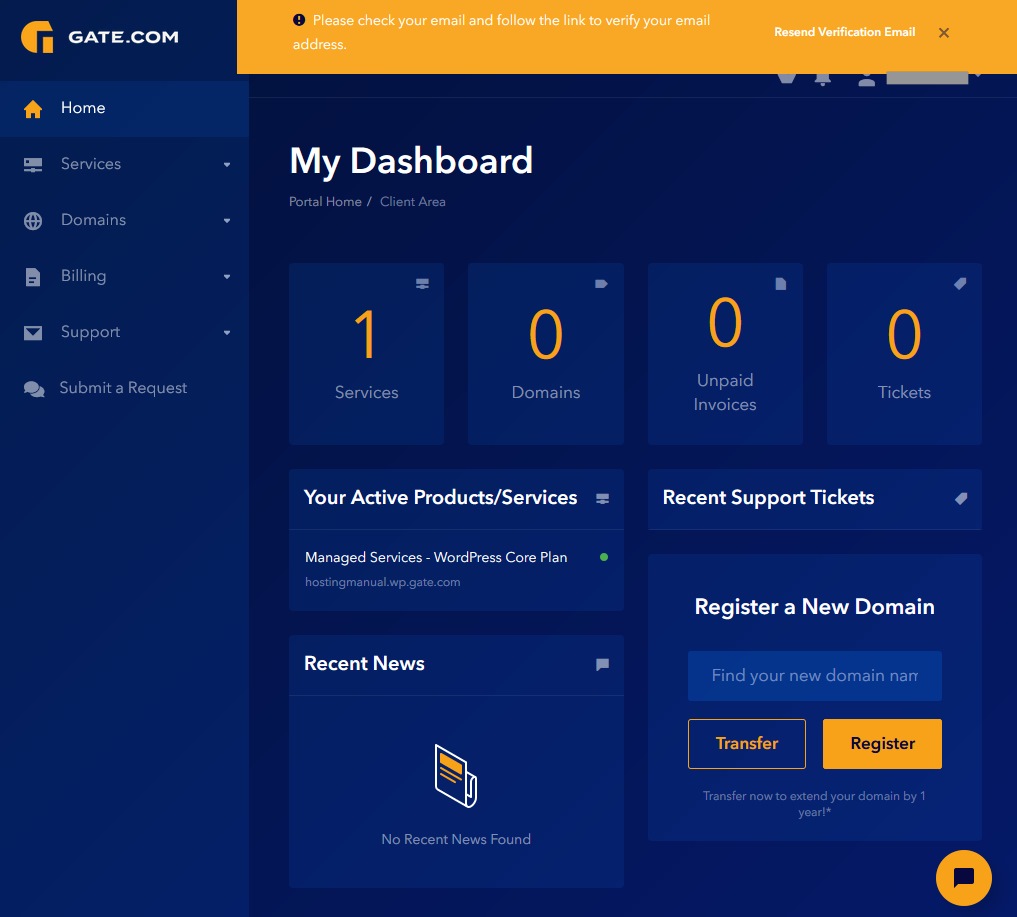 You will have to verify your email address after the signup, so make sure it's the correct one.
3 Simple Plans
All plans have an impressive feature list. I will dive into them a bit later. In addition to those base features, the main thing that changes with the three plans is performance-related.
Unlimited Traffic – As Much as a Server Can Handle
Gate.com won't throttle the amount of traffic your virtual server can receive. There is however a limit, namely how much your server can handle.
To scale up, you can sign up for a higher plan and get more RAM, disk space and vCPU cores.
The Core Plan
The Core plan costs $49/mo, and it's the smallest plan. You can host only one WordPress website on it.
You get the following resources with it:
2GB RAM
50GB Disk Space
2 vCPU Cores
In my personal experience, this is more than enough for at least 10k visitors a day, even more if you don't install plugins with performance issues and take advantage of caching.
The Growth Plan
With a very steep increase in price, you also get a lot more resources. It is an ideal plan if you have an ultra-high traffic website or have a bunch of WP sites that you need to consolidate at a single hosting company.
The resources are:
8GB RAM
100GB Disk Space
4 vCPU Cores
The Pro Plan
The Pro Plan is a real beast. I think the majority of my readers won't ever need this much power. It costs a whopping $299/mo, and it can easily take care of a couple of dozen WordPress websites.
It boasts of:
16GB RAM
200GB Disk Space
6 vCPU Cores
With this plan you should be able to run a huge site without employing your own developer and devops team. It's especially ideal for eCommerce sites that want to grow big.
How does Pricing Compare to Other Hosts?
At first blink it's more expensive than what most people are used to. Don't forget though, that you shouldn't compare it with cheap shared hosting, but rather with virtual private servers. If you look at those, the price is just about right.
The advantages of Gate.com over cheaper shared web hosts:
They specialize in WordPress and know precisely how to tweak it for speed and security.
They give you dedicated resources. With your average shared host, you get "unlimited" resources with hidden limits that are much lower than what Gate.com can provide you.
Unparalleled security: shared hosts get hacked all the time (they are getting better though). Gate.com takes care of security for you at a level that none of the shared hosts can compete.
You (or rather your visitors) get much better website speeds.
Don't forget that Gate.com will migrate your existing website to their platform free of charge, and they also provide a 90-day money-back guarantee. You can pretty much try them without any risk.
Proper Security
All equipment, including networking, hardware and software, are owned by Gate.com. It means security from the ground up, and it's an incredibly rare service.
Smart Updates
If you have worked with WordPress, you know that updates come out quite frequently. Gate.com takes care of applying those updates for you in a way that won't break your site.
Automatic SSL
Free and automatic SSL has become a standard feature at virtually all web hosts. Still, I mention it for people that are not sure it's a free feature.
Security Status
Inside the WordPress Toolkit, there is a link to Security Status.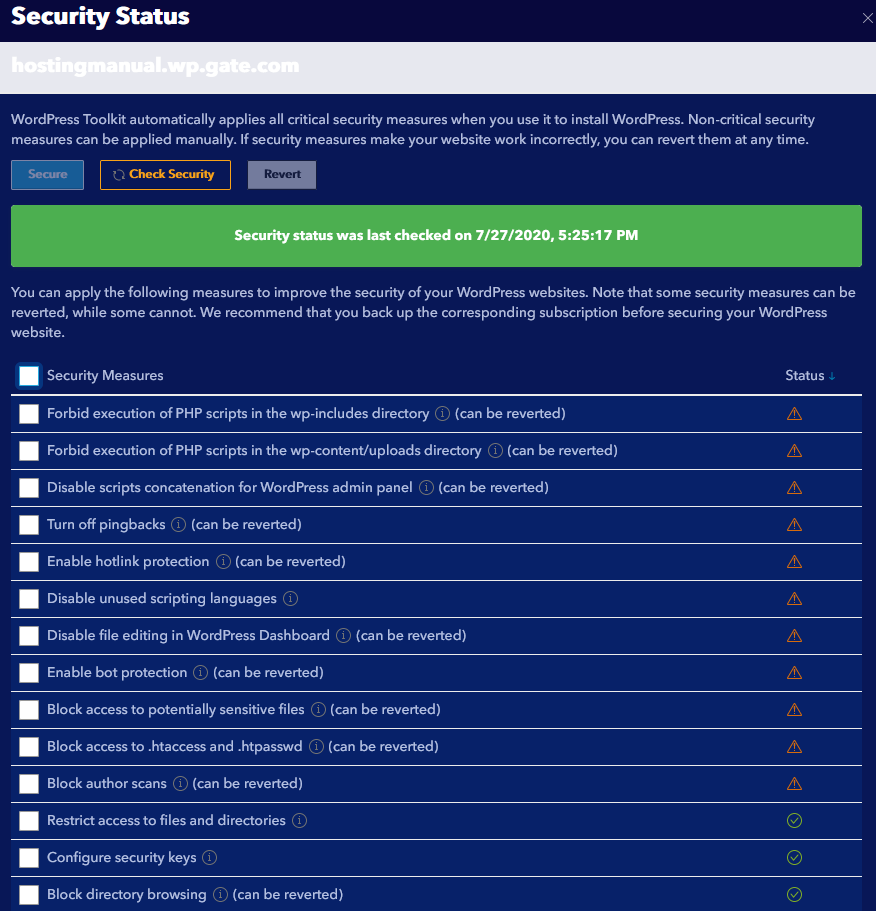 Gate.com applies all the recommended security fixes for WordPress websites and displays the current status.
As you can see, some fixes were not yet applied to my account. Using them is just a matter of selecting them and clicking "Secure".
There is also an "Available Updates" section where you can apply the most recent WordPress updates outside WordPress.
Immunify360
Immunify360 is a third-party software integrated into Gate.com's service. It provides full protection against the following threats:
Automated malware scanner with cleanup
AI-based Web Application Firewall
Intrusion detection and protection
Proactive defence for PHP-based websites (including WP)
Software patch management
WebShield with integrated captcha
Serious mission-critical websites need this stuff, period!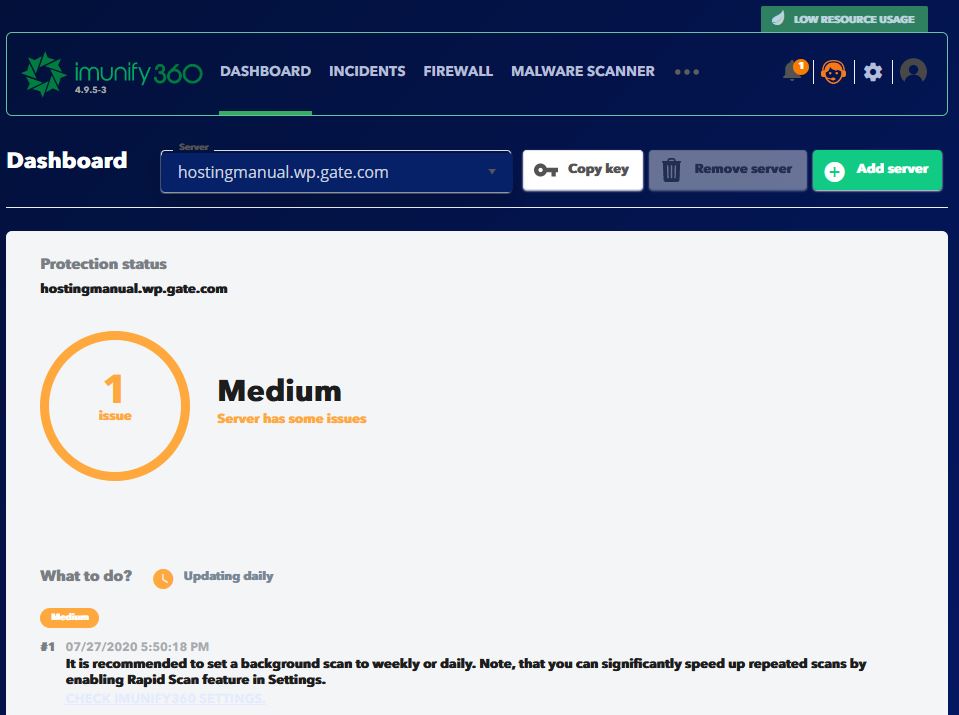 Most of the Immunify360 functions are self-explanatory. However, I found Proactive defence and Reputation Management worth a couple of words.
Proactive Defence is looking for malicious activity through PHP scripts. You can set what happens when such activity is detected. The default setting is to log the incident. However, you can also set it to kill script execution. It would be interesting to see the rate of false positives on this.
Reputation management periodically downloads IP and domain reputation from a handful of websites and checks them against your domains and IPs.
DNS Security
Gate.com offers DNSSEC by default with all their plans. They use a global network of DNS servers and all DNS communication is signed with public key cryptography. This makes sure that your customers won't be hijacked and directed to malicious websites.
AI-Powered Virtual Machine Firewall
Each machine is equipped with its own AI-powered firewall. They protect against malicious traffic, including DDOS. DDOS protection costs a considerable amount at other web hosts, if offered at all.
Configurations
Even though it is a WordPress web host, they don't hide the advanced configurations from you. You can tweak every little details about your server. They are using the Plesk control panel. It used to be a bit worse than cPanel, but nowadays it is just as robust..
Databases
The Databases screen delivers all the features needed for working with the database (MariaDB). For more advanced functionality, you can also use phpMyAdmin.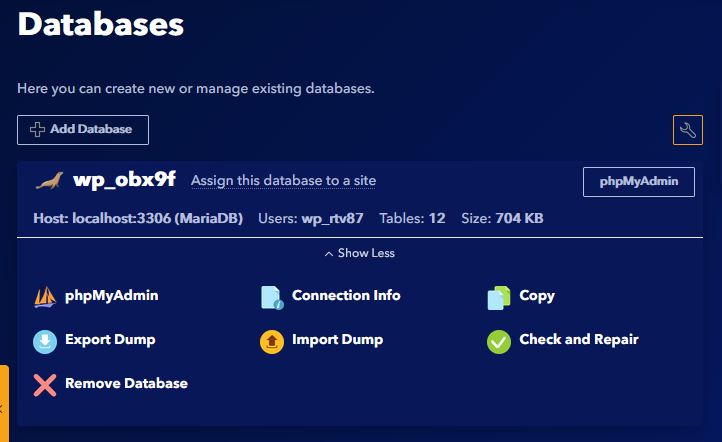 File Manager
Depending on your workflow, you might never use this feature. I like it none the less when I want to upload a file that WordPress cannot handle.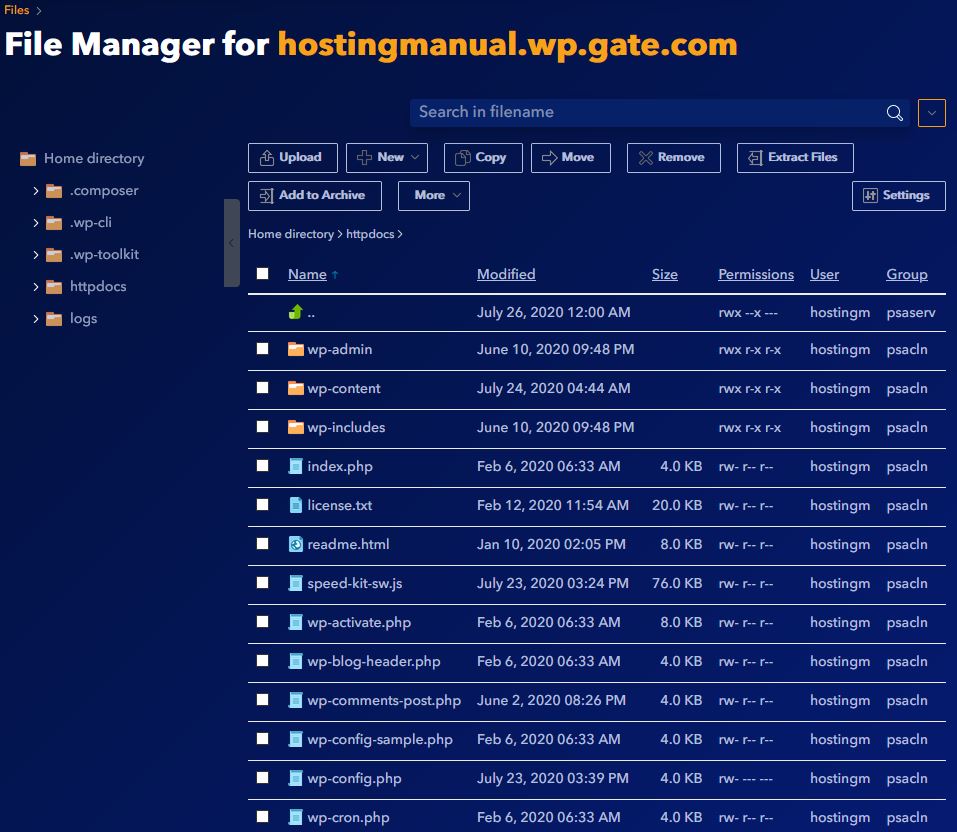 FTP
FTP is still a very convenient way of transferring files to a server. The FTP screen gives you all the options for setting up and managing FTP accounts.
SSL Settings
You can manage, reissue and remove certificates from the comfort of the control panel.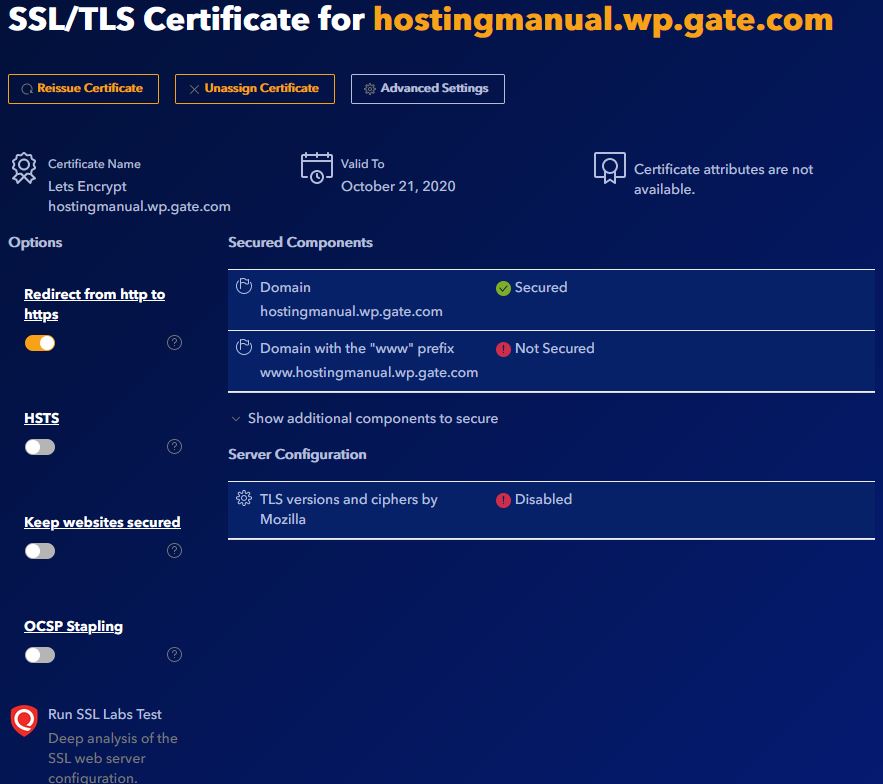 The following features can be turned on/off with one click:
Redirecting from http to https
HSTS – telling web browsers to access the website only over https.
Keep websites secured – issues a free Let's Encrypt certificate to all services (e.g. webmail) that belongs to your account.
OCSP Stapling – Your server looks up the validity of the certificate instead of the browser. It should speed up connections.
PHP Settings
You can tweak PHP settings too: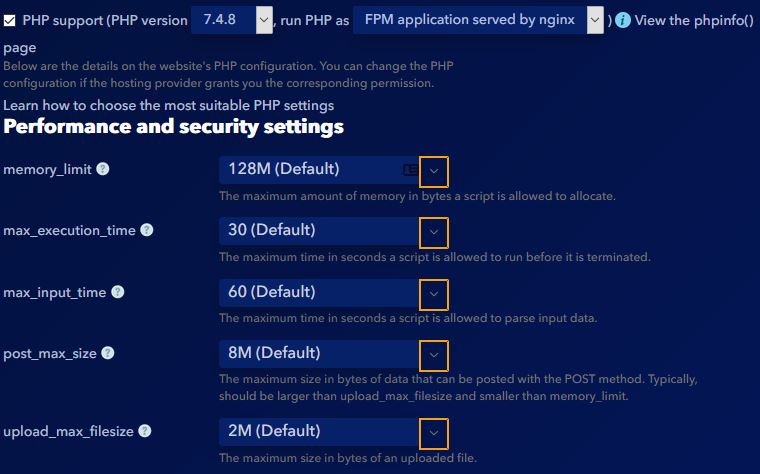 Change these settings only if you know what you are doing.
Git Repository
Some modern workflows include a Git repository and automatic deployment as soon as a new commit is pushed. You can easily set it up with Gate.com. There is a dedicated page where you can specify the URL of the Git repository and what should happen with it.
PHP Composer
There is also a graphical interface for PHP Composer (a PHP package manager).
SEO Toolkit
SEO is a priority for many WordPress blog owners. That's why you get an SEO Toolkit with Gate.com.
It has four main parts:
Site Audit
Rank tracker
Competitors
Log File Analyzer
Site Audit
The Site Audit page gives you an overall score of your technical SEO. The three main categories are Content, SEO, Technology. It also has a nice summary of issues that need improvement.
Optimizing Speed
So far I have worked with the default WordPress installation. Let's see a speedtest: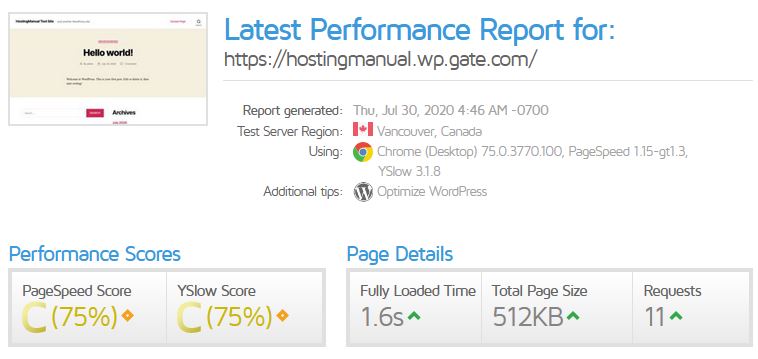 This is very barebones, no optimizations were done at all. So let's speed it up.
First of all, I have turned on gzip compression (would be a nice addition to default settings). Here is how to do it on your own. That simple change has increased PageSpeed to 94% and YSlow to 84%.
Speed Kit
Speed kit is an interesting service that's included in the Gate.com offering. Based on the description how it works, it's a CDN without telling you it's a CDN. It basically reroutes some requests to caching servers. You backend is continuously synchronized with the Speed Kit servers so your latest content is always available through them.
To start out, you can run a speed test right in your Dashboard. Speed Kit shows you the potential improvement when you turn it on.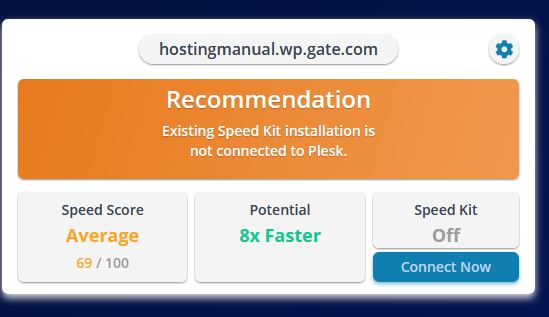 Interestingly, there is a speed test on their website too: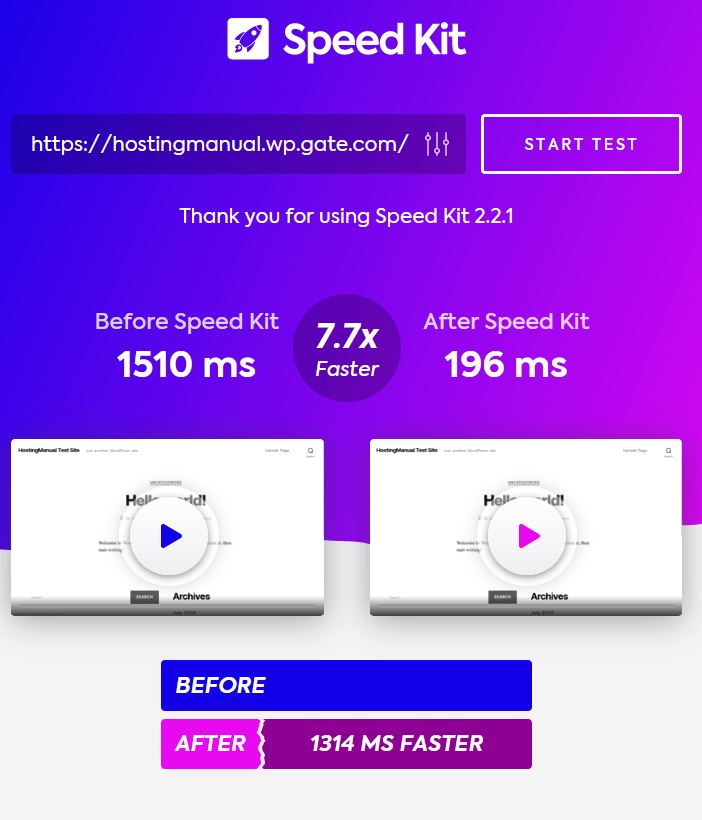 As you can see, I have already activated Speed Kit on my website and it is showing incredible speeds. Less than 200ms is hard to believe.
So I tested it. None of the other tools (Gtmetrix, Webpagetest) could confirm this kind of improvement. Manual testing was not conclusive either. So I had to dig a little.
It turns out that Speed Kit is not a simple CDN service. At the first pageload it installs service workers and all subsequent requests will be faster. The third-party tools I have mentioned test only one pageload, so they don't pick up the speed improvement. Speed kit has an article dedicated to this question here.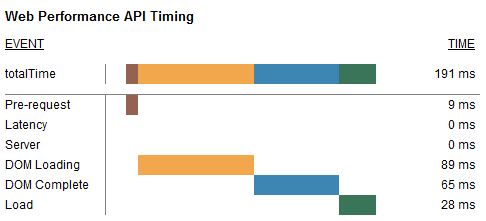 I have tested it with caching plugins to squeeze even more speed out of it but it looks like Speed Kit doesn't play well with such plugins. My speeds actually deteriorated with caching. It works well with nginx caching, so make sure to enable it in your dashboard.
Support
I had to contact support twice. The first time my issue needed some research so they took some time to reply. The second time they answered my question within 30 minutes. Both times they were knowledgeable and genuinely tried to help. Thumbs up for support!
Who is Gate.com Good For?
Ecommerce sites based on WordPress
High-traffic websites
Mission-critical business websites
People who are not very technical, but need a rock-solid solution
Sites that are prone to cyber attacks and need advance security solutions
Who is Gate.com NOT Good For?
Casual bloggers don't need this much power. You are good to go with a cheaper host until your site gets noticeable traffic.
This post was created in collaboration with Gate.com. There are no affiliate links in this review.