Bluehost is a web hosting company founded by Matt Heaton and Danny Ashworth in Provo, Utah. They have a staff of 750 people working around the clock. Being a recommended web host by WordPress.org, they feature 1-Click installations in all their plans.
Comparison: Features and Pricing
If there is one name you know in the world of web hosting, Bluehost is probably on the top along with Inmotion and GreenGeeks. It got its start back in 1996, which makes it ancient by web standards, but I like them none the less.
I have published the first version of this review years ago. Bluehost was and still is one of my most recommended web hosts. They have kept reinventing themselves with new features and services.
In this post, I take you behind the scenes and show you features through my account. I will also share a special deal for Hosting Manual visitors only at the bottom of this page (you can get $2.95 pricing instead of the regular $3.95/mo).
Here's what the customer dashboard looks like: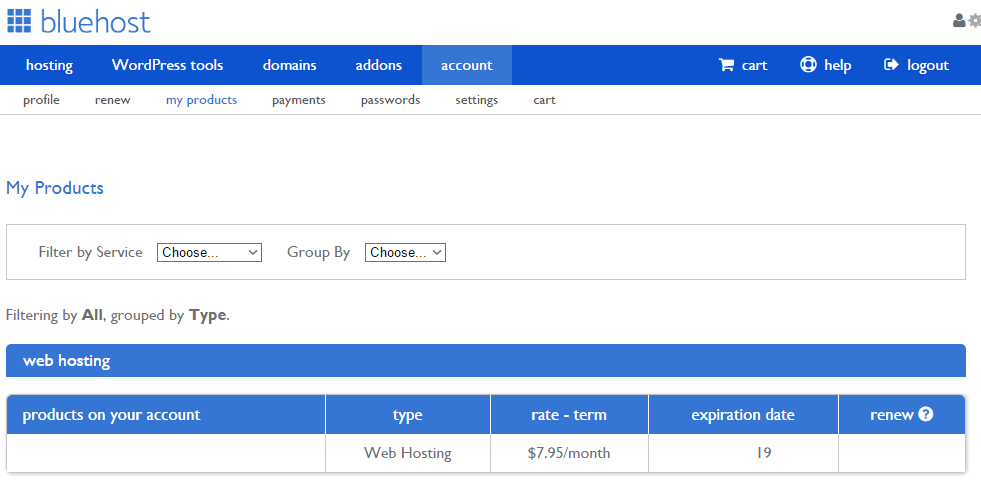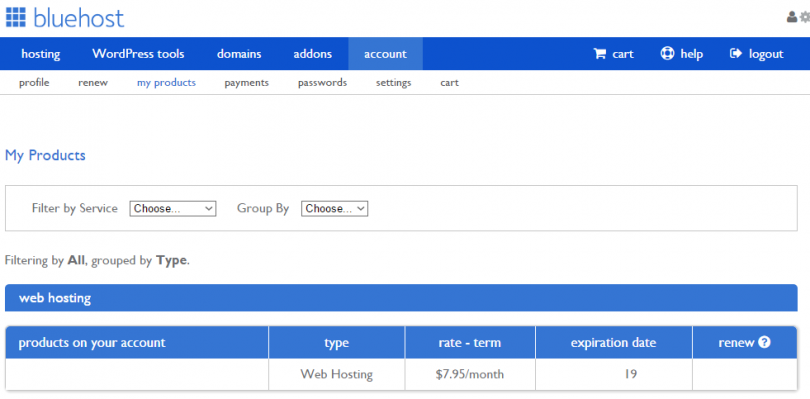 By the time you finish reading this review, you will know what to expect from Bluehost and (equally important) what NOT to expect from them.
Beyond question, they have built a solid reputation over the decades, especially where it comes to WordPress hosting.
They are listed as one of the official recommended hosting providers for WordPress blogs and offer an abundance of great tools, bonuses, and resources to WordPress customers.
Ready to find out more? We're going to delve deep into the details in our Bluehost review. But let's get started with a few quick facts first.
Plans appear cheap at first glance, but not all of them are as cheap as they seem. You can get started for as little as $2.95 per month with shared hosting if you snag a deal like this. Otherwise, the Starter plan usually costs $7.99 per month, which is still quite reasonable. But WP plans are pretty expensive, starting at $12.49 monthly.
Get unmetered bandwidth with all accounts.
The starter plan comes with 100 email accounts. The Plus and Business Pro plans offer unlimited email accounts.
Get up to $200 in marketing offer bonuses.
Decision: Which Level of Service Should You Choose?


Bluehost offers five main types of hosting plans:
Shared hosting
VPS hosting
Dedicated hosting
WordPress hosting
Cloud Sites
If you are looking for something inexpensive and basic, shared hosting is probably what you need. This is what most beginners and small businesses are shopping for. Dedicated hosting is the most expensive option, appropriate for large commercial firms that need full control of their resources.
With dedicated hosting, you are essentially renting a physical server. VPS hosting is a middle-ground option where you share a physical server with others, but you have your virtual operating system, so the server functions as if it is physically yours. WordPress hosting is of course what it sounds like—hosting optimized for WordPress customers. Let's take a look at the plan tiers for each.
Read: Publishing Your Website: Go-Live Checklist
Shared Hosting
Basic: Beginning at $2.95 per month, this plan jumps up to $8.99 per month at the regular price.
Plus: This plan is regularly $11.99 per month, now only $5.45.
Choice Plus: This plan is $16.99 per month, now only $5.45.
Pro: Normally $26.99, now only $13.95.
These prices are all pretty good. But with this deal, you can make sure you get the best price! At the Basic level, you get one website, 50GB of space, and unmetered bandwidth. You also get one domain, five parked domains, and 25 sub-domains. Additional features include 5 email accounts with 100 MB of storage each.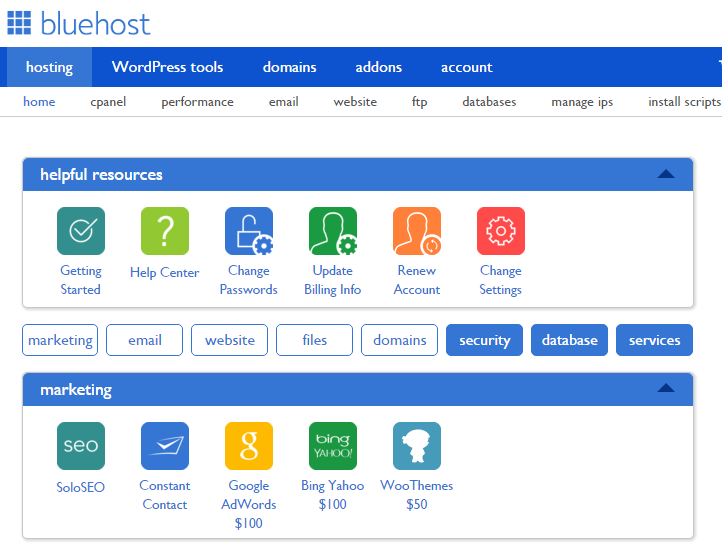 With the Plus, Choice Plus, and Pro plans, you get unlimited websites and unmetered space and bandwidth, which is awesome. You get unlimited domains and sub-domains.
Email accounts and storage are unlimited, along with $200 in marketing offers. Plus it includes Global CDN and one SpamExperts (over $24 per year in extra benefits).
The highest level plan is Pro. It includes up to $180 in extra annual benefits, including better performance and a dedicated IP, which is important for SEO.
VPS Hosting
Standard: $18.99 your first month, up to $29.99 after that
Enhanced: $29.99 your first month, up to $59.99 after that
Ultimate: $59.99 your first month, up to $119.99 after that
These prices are in line with typical costs for VPS hosting industry-wide. The speed for the first two plans is 2 CPU cores, up to three and four cores for the top plan. You get 30GB SAN storage at the lowest tier, up to 120GB at the highest level. RAM ranges from 2 GB up to 8 GB. You get 1 TB of bandwidth at the Standard level, up to 3 TB at the Ultimate level. Each tier includes one domain. The Standard tier includes one IP address; you get two with the rest. Every plan is backed by 24/7 support and a money-back guarantee.
Dedicated Hosting
Standard: $79.99 your first month, $119.99 per month after that.
Enhanced: $99.99 your first month, $159.99 per month after that.
Premium: $119.99 your first month, $209.99 per month after that.
With the Standard plan or Enhanced plan, you get a 4 x 2.5GHz CPU. The Premium plan offers you a 4 x 3.3GHz CPU. Storage is ranging from 500GB to 1 TB (mirrored), and RAM starts at 4 GB at the Standard level, ranging up to 16 GB at the Premium tier. You get 5 TB of bandwidth at the Standard tier, 10 TB at the Enhanced tier, and 15 TB at Premium. One domain is included with every plan. You get three IP addresses at Standard, four at Enhanced, and five at Premium. All plans are backed by 24/7 service and a money-back guarantee.
WordPress Hosting
Basic: Starts at $2.95 with a 36 months subscription
Plus: Starts at $5.45/mo with a 36 months subscription
Choice Plus: Starts at $5.45/mo with a 36 months subscription
These plans look the same as their shared hosting plans, and they cost the same.
However, at the end of 2018 Bluehost introduced a new category: Managed WordPress Hosting.
Managed WordPress Hosting
These plans are quite expensive compared to their simple WordPress hosting and what some competitors offer (many hosts sell WordPress hosting plans at the same prices as general-purpose shared hosting plans).
Managed WordPress at Bluehost is a big deal, however, and one of the company's most popular services (with more than a million sites hosted by the company).
The Pro plans are running on high-performance VPS and offer improved site speed.
Features at the Build level include Basic Jetpack Site Analytics, Marketing Center, 100 Free Premium Themes, daily backups, and Malware detection and removal for added security.
The Grow plan is a step up with Jetpack Pro. The Business review tools let your visitors leave positive Yelp, Google, Yahoo, or Bing reviews for your business directly from your site. The SEO tools give you real-time optimization tips on how to increase your search engine rankings. It's integrated into the Marketing Center where you can see stats on how you are doing in major search engines.
The top-level Scale plan gives you Paypal integration and Elastic Search.
It's worth noting that you get live support with Grow and Scale. It gives you hands-on assistance with design, functionality, or general questions from real WordPress experts 24/7.
All plans come with Positive Wildcard SSL, and 24/7 service and a money-back guarantee back them. These plans also include automatic plug-in updates and regular backups and a staging environment that allows you to build and test your WordPress website before publishing it.
A feature that probably not many use is the unlimited video compression. You can upload your videos without optimizing them for the web. Bluehost takes care of it. I have not used Bluehost for streaming and I couldn't find a review of it either, but support told me they have no restrictions on how many videos can you stream.
These are all excellent features, but still, you may be asking, "Why would I pay this much for WordPress hosting?" Bluehost plays a very active role in the WordPress community and has a core staff of developers. That means that Bluehost can offer first-class customer support and troubleshoot even complex problems which are unique to WP.
This is not to say Bluehost is your only or best option. Hosts like Siteground can easily compete, and at a lower cost.
WordPress Hosting with Website Builder
No more funny looking websites! Bluehost's WordPress Website Builder is a modern drag-and-drop visual editor. You can build websites faster and easier than ever.
What are the alternatives? You would have to hunt for a suitable free theme or buy a paid one, and then customize it. Unless you are a WordPress power user, those themes end up looking very similar.
With the new builder, you can build custom designs and layouts and they will be mobile-friendly by default.
Free Expert WordPress Migration
Sometimes the only obstacle of moving your website to a better host is the hassle of the migration. I have done it a ton of times. Still, I wouldn't say I like it much. Luckily Bluehost can take care of that for you if you have a WordPress website. Once you sign up with any of their plans, this service is available for you free of charge.
Here is a more detailed description with everything you need to know about the FREE migration service.
First look for Site Migration in the Bluehost Marketplace and fill out the site migration form.
Bluehost has developed a WordPress plugin that guides you through the final steps. Once done, you should see a screen like this:
You will get a link to your new site to check if everything is working correctly. If all is fine, you will need to update your DNS settings with your registrar and you are done.
Blue Flash Launch Support
New to both Bluehost and WordPress? Bluehost makes it a breeze to get started with a special feature called Blue Flash Launch Support. This service is included entirely free of charge with your hosting package. It takes the form of a professional consultation over the phone with a WordPress expert.
With Blue Flash Launch Support, you can enjoy a guided tour of the dashboard so that you can identify all the features and options you can use for posting at a glance. You'll have a chance to get answers to your questions during this orientation phase. As WordPress can be daunting to first-time users, this is a big timesaver, and makes the process of getting off the ground a lot more accessible.
During your call, you will get quickly set up with your account, and will have a chance to pick a theme which is suited to the style and purpose of your site. The options which are shown to you will already be vetted in advance according to your requirements.
The specialists with Blue Flash Launch Support will even suggest appropriate plugins to you. That way you can take advantage of everything that WordPress has to offer for your needs.
The Blue Flash team is available around the clock every day of the week. That means that no matter where you are located, you can get up and running rapidly with WordPress and get right to working on your website.
If you require more assistance with WordPress after you are done using this free service, you have the option of signing up for WP Live support for $99 a month.
Domain Name Email Address
When it comes to building brand awareness and establishing trust and relationships in business, a domain name email address can go a long way. When you purchase a hosting plan from Bluehost, you have the option of signing up for your own domain name email address.
The most basic plan, Email Essentials, including emails and calendars, Outlook Web Access, and 15 GB email storage. If you get the Business Plus plan, that includes the same features together with Microsoft Teams and Microsoft Office Online as well as 1 TB OneDrive.
The Business Pro plan adds Microsoft Office for Desktop, Access + Publisher for Desktop, Outlook Customer Manager, and tools for bookings and invoicing.
With all plans, your software updates automatically, and you benefit from the security and recovery services offered through Microsoft Office 365. A simple, user-friendly interface makes it easy to manage your account using a single login. There is a 99.9% uptime guarantee, and your plan is backed by 24/7 customer support.
Additionally, you are allowed to use multiple devices to access these programs and tools. That means that no matter where you are located, you can log in to manage your account and work on your projects.
Domain name email plans start at just a few dollars per month. This is an impressive low cost, and adds significant value to your hosting plan.
eCommerce Features
It is easy to set up an online store with Bluehost, which offers many different shopping carts: Zen, Cube, Agora, and OS Commerce. You get SSL security for your transactions, a certificate generated for free, and OpenPGP/GPG Encryption.
In 2021 Bluehost has introduced a new Woocommerce service. Woocommerce is built on WordPress and it's probably the most popular alternative to Shopify without a vendor lock-in.
With the new service you not only get to install Woocommerce with one click, but Bluehost also makes it easier to add payment processing (1-click install), multiple shipping options, built-in calendar bookings, and daily backups.
The plans start at $12.95/mo and up depending on your commitment and add-on services.
Unlimited bandwidth sounds good, but I'm pretty sure they would limit your account according to their fair use policy if your website had consistently outstanding traffic. There is no such thing as unlimited bandwidth. Bluehost has to pay for the bandwidth you are using. This applies to all web hosts. I suggest you read
my post about bandwidth and disk space
.
The $200 in free marketing credits is also a big help if you are a store owner. You can use these to promote your business through Google, Facebook, Bing, and Twitter.
All of that having been said, Bluehost is not particularly known for eCommerce, and some sites make it easier and faster to set up a shop. But Bluehost is an economical choice, and you will get access to a ton of great features to help you sell online.
Security Features
Security is an area where Bluehost excels. You get three layers of anti-spam protection in the form of Spam Experts, Spam Hammer, and Apache Spam Assassin. You get protection for your inbox as well; it is easy to set up filters. Your directories are all password-protected.
If you need to block access to your site, you have the option to blacklist IP addresses. Another top-notch feature is secure shell (SSH) access. This allows you to access configuration files individually and securely.
Bluehost also offers single-click integration with CloudFlare, which provides even more excellent security features and speeds up your site! CloudFlare is particularly good for thwarting DDOS attacks. Virtually every review I have seen of this is positive.
You also get a lot of options to upgrade: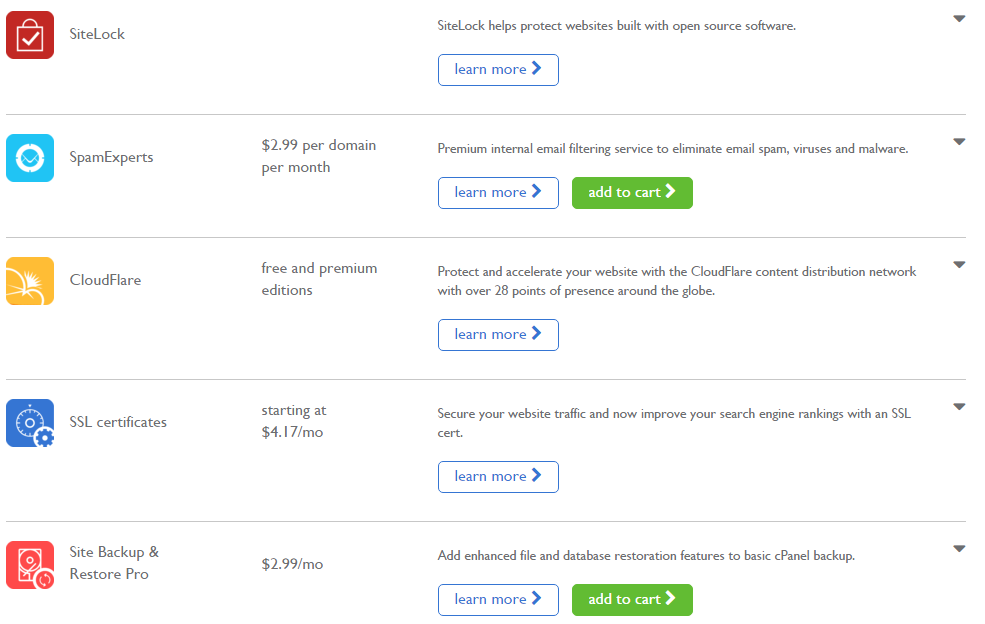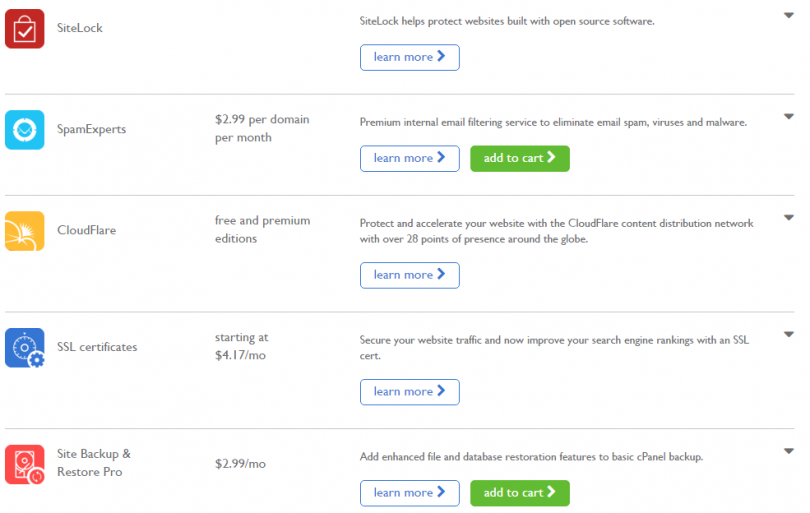 Refund Policy
Bluehost covers its plans with a 30-day money back guarantee. That means if you cancel within the first 30 days, you will get a full refund. If you choose to cancel after that, you won't get a prorated refund for the period of your hosting term which you have not used. Domain fees are not refundable. I have not tried to get a refund with them yet so I cannot say how easy it is.
Ease-of-Use
Bluehost makes it a breeze to set up your website and manage it. The enhanced cPanel interface is as easy to use as it gets—you just click on the icons to get to where you need to go.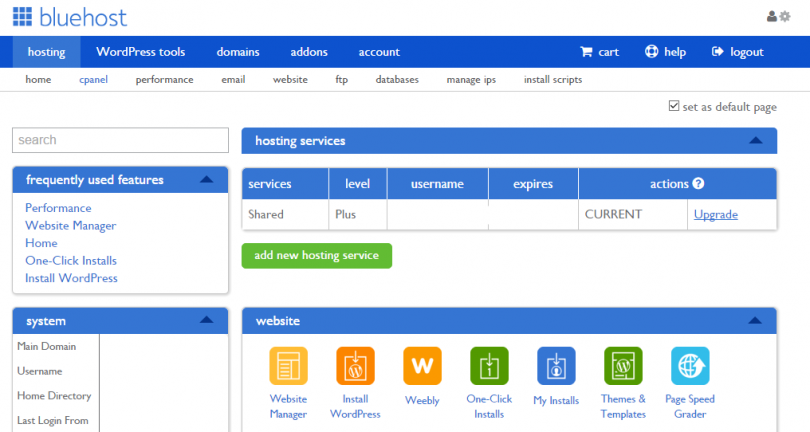 You can take care of everything with your websites and email addresses in one central location. You can customize the layout of the control panel to your needs. That way you can get quick access to your favorite features.
Customer Service
Here is an area where Bluehost gets mixed reviews. Many customers report positive experiences with fast, helpful, friendly customer service agents. Unfortunately, there are also a lot of clients who say that they were unable to get the help they needed even with numerous phone calls.
Another problem with Bluehost is excessive upselling. This is a company that loves to try to sell you on add-ons and upgrades, and there are a lot of areas where you flat-out need add-ons for full functionality. That is a problem if you are on a tight budget.
Who is Bluehost Best For?
Customers who are looking for a reliable web host with a strong reputation. Bluehost is one of the oldest names in the business and has established trust.
WordPress customers who can pay extra to get access to more features and a dedicated support team of WP experts.
Owners of both large and small businesses. Bluehost is fine if you are on a budget and just want general-purpose shared hosting. Just watch out for the upselling.
Websites Hosted by Bluehost
Even though Bluehost is best known for it's shared hosting services, it hosts some very high-traffic websites. Here are a few examples:
https://cmsdetect.com – An excellent tool for identifying the CMS of websites

https://www.velvetjobs.com – A job search website

https://pod.io – A social network with 5 million users
There are countless others, I have just cherrypicked some that most people can relate to.
A review cannot be complete without a pros and cons list. Here they are:
Pros of Bluehost:
Most plans include unlimited disk storage, domain hosting, email addresses, and bandwidth.
You get a free domain name for a year included with your purchase.
The enhanced cPanel is really easy to use and offers fast access to features.
The security features on Bluehost are flat-out excellent.
Numerous databases are available, including MySQL, PostgreSQL, CGI-BIN, PHP, Python, Perl, Ruby on Rails, and much more.
Tons of free website scripts are available, including social networking scripts, blog support, mailing lists, message forums, Joomla and Drupal and Tikiwiki.
eCommerce features are good with multiple shopping carts available and SSL security.
Most customers report that Bluehost is fast. Integrate with CloudFlare, and you'll get even better performance.
If you can afford it, the WordPress hosting on Bluehost is considered to be top-notch.
Cons of Bluehost:
While there are many useful add-ons available, unfortunately, you need to install many of them to get the full functionality you need.
The customer service team gets mixed reviews.
Bluehost loves to try to up-sell its customers, which can get to be annoying if you are on a tight budget.
The WordPress plans, while very nice regarding features, are also very expensive compared to plans offered by many competitors. Inmotion, for example, has an excellent plan starting at just $2.95 monthly. That's less than half of the starting price for the lowest tier WP plan offered by Bluehost.
Conclusion
There are plenty of exciting features and extras included at every price point, and the diversity of plans provides a lot of flexibility for every budget. Whatever your needs, Bluehost delivers regarding its packages.
Despite some negative feedback, the majority of customers are quite happy with Bluehost's services. There is a reason that this company has such a strong reputation over 20 years of online business!
In summation, Bluehost is literally one of the top few that I would recommend to anyone and everyone. If you're looking for a web host with a rock-solid reputation, then look no further than Bluehost. With cheap and scalable plans you can customize your solution, and in just a couple of moments, you'll be up and running.
Bluehost is an absolute knockout of a web hosting provider – if you can grab the occasional sale (right now 50% Off), it's an absolute no-brainer!