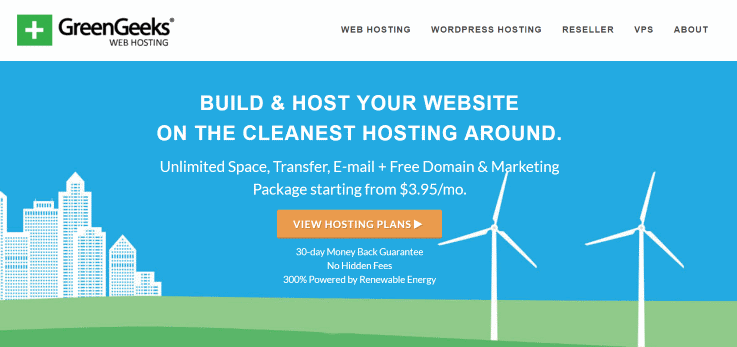 Founded by Trey Gardner in 2008, GreenGeeks provides affordable, high-quality web hosting to more than 300,000 customers. What makes it unique is its commitment to the environment by replacing the energy used by clients with wind power credits. They partner with Bonneville Environmental Foundation in Oregon to purchase three times as much wind energy as they consume, leaving GreenGeeks and its customers carbon-negative.
GreenGeeks Special Features

| Feature | Details |
| --- | --- |
| Hard Drive | RAID-10 SSD |
| Web Server | Litespeed |
| Caching | POWERCACHER |
| HTTP version | HTTP/3 / QUIC enabled |
| PHP version | PHP7 enabled |
| Free CDN | Cloudflare |
At Hostingmanual, we have run a website setup and website management service for years. It's not only a way to make some money but also gave us first-hand experience with most mainstream web hosting providers. The list includes GreenGeeks, Bluehost, A2Hosting, and many others.
That is precisely how I encountered GreenGeeks the first time, and I never had significant issues with them. So in this article, let me show you how I work with GreenGeeks.
Sites I am managing at GreenGeeks are always stable. We have minor hiccups here and there, but mostly due to faulty plugins, etc.. Since I have been so happy with GreenGeeks, I have decided to write about them here on Hosting Manual.  Then out of the blue, I have read this!
For this review, I have even created a brand-new account. The setup was as simple as I expected. The first email I got informed me that my payment needs to be verified, and I will gain full access to my hosting account after that.
Five minutes later, I got this email:
Let's see my account details:
So I am done with the signup. Let's dive into more exciting things, like uptime and playing with cPanel.
You Say Green Hosting and I Say GreenGeeks
The selling point is what sets GreenGeeks apart: taking advantage of wind energy credits to offset carbon output by their servers. There are numerous studies out there showing how servers account for more CO2 output every year. For some people, this is quite important, and green hosting provides a solution for them.
You might also find it comforting, that while you are blogging or running a successful online business, you help the environment. With 300% carbon offsetting, your carbon footprint will be a negative one. You won't be causing any harm to the environment, rather have a positive impact on it.
So How Green Are These Geeks Really?
GreenGeeks' founder, Trey Gardner, has worked in the web hosting industry for over 20 years, and he helped to build a number of successful companies. Greengeeks was founded in California, and seeks to provide superior web hosting in an environmentally responsible way so that the company and its clients have a negative carbon footprint.
Green Aside, They Are a Serious Hosting Company
They boast a 99.9% uptime guarantee and a 30-day money-back guarantee, which makes trying their service low risk. In addition, they have a range of hosting plans, including Shared, Reseller, VPS, and WordPress hosting, and they have data centers located throughout the world.
It's not like you buy a piece of the server and left alone to figure out everything on your own. Support is there for you all the way. I found it quite extensive, with 24/7 live chat and phone support.
As with virtually all web hosts I dealt with, they have tiered support, meaning that in case you face a more complicated issue, live support will likely not be able to solve your problem. It will be forwarded to second tier support via ticketing system, and they will solve it for you usually within 24 hours. This is not a model without flaws, but it has worked for us so far.
A Standard cPanel
cPanel is pretty much the standard among control panels. I prefer it to the other ones.
cPanel at GreenGeeks is pretty standard with the features most retail hosting companies offer nowadays.
I don't want to write about cPanel here, that would be too long.
I particularly like that they gave me SSH access.
The important thing is that you can use 1-Click Installation of popular scripts like WordPress or Drupal.
Light
Light is the entry level plan at GreenGeeks. You get a pretty standard set of features.
The major drawbacks are:
you get standard performance
you can send 100 emails per hour (more than enough for most people!)
PCI compliance is a paid addon
You can get this plan for as low as $2.95, so it's still an excellent value for money.
Pro
The Pro plan gives you twice the performance. You get PowerCacher and can send more emails.
For abou 2x performance you pay twice as much: $5.95/mo.
Premium
You get everything in the Premium plan.
I particularly like the free PCI compliance and the 4x performance.
You can use this plan for some serious business. You can accept credit cards, and your website will be much faster than with most shared web hosts.
It comes with a price tag! At $11.95 it's more than what most people can afford. There is a market for this kind of premium service though. HostingManual.net has also chosen a similar high-performance plan. Even though it's more expensive than most shared plans (or even some VPS plans), we felt it's worth the price.
Nowadays almost every web hosting company claims they are WordPress friendly and so on. It's easier said than done. One web host I particularly like the WP hosting of is Siteground. They have a very well optimized service, so it's the standard of WordPress hosting for me.
So why not compare the two? I did!
I have set up two skeleton WordPress websites and headed to GTMetrix.
The results are incredible: GreenGeeks matches one of the best WP hosts in the industry.
The comparison is not exactly 100%. For some reason, the page size is bigger on Siteground than on Greengeeks. I have removed all the plugins and content, so both were bare minimum using the same theme.
Since I have written this review, other tests were published and Greengeeks consistently ranked in the top 3 in terms of performance!
Wildcard SSL Certificate for Free
Let's Encrypt's free wildcard SSL certificates let you secure multiple subdomains. You set it up on your main domain, and all its subdomains will also be SSL protected.
So how wildcard SSL is different from a simple SSL certificate? It lets you use it on any number of subdomains (e.g., subdomain.yourdomain.com). For most people, it doesn't make a difference, but for some people, it's a must.
Enhanced Security and Reliability
GreenGeeks has taken steps to ensure that customers' websites are secure and reliable as much as possible. Through Host Account Isolation, they designate dedicated computing resources and a secured virtual file system to each client account. As a result, individual clients will not have any impact on other clients in spite of site traffic or demands on computing resources.
In addition, they provide all users with Linux Secure vFS. The secured virtual files safeguard users because other users cannot see or access other accounts. Their system scans for malware in real time and locate and isolate any compromised files so that everyone else is safe. They also make use of other software to preemptively prevent any potential attacks across the network.
Finally, they monitor all of the critical servers in real time and administrators are able to identify problems before they happen, which allows them to maintain 99.9% uptime.
Data Centers and Servers
GreenGeeks is a company which takes its name and the promise of that name seriously. To that end, this host's data centers are housed in an optimal environment and are powered by 300% clean renewable energy (wind power, to get more specific).
With cutting edge Intel Xeon processors and top-of-the-line technology for routing and switching, the company's servers and networks are fast, powerful, and reliable.
In order to ensure that you get the fastest possible hosting, you get to choose a data center which is as close to your geographic location as possible. There are three data centers available in North America and one in the Netherlands.
All servers feature SSD acceleration, RAID-10 SSD Storage Arrays, 64 GB DDR3 ECC-Registered Memory, and BGP4 Gigabit connectivity to Fiber GigE Tier 1 Backbones. GreenGeeks promises never to over-sell server space, so even on shared hosting plans, you can expect the best performance. Your server should be able to handle high traffic without being bogged down by low resources.
The Things I Like About GreenGeeks
GreenGeeks has some distinct features that make them stand out from competitors. Here are the pros of hosting with Greengeeks:
No Crowding
Many web hosting companies put as many customers on a server as possible to increase profits. That's not the case with this hosting company. They don't crowd customers, and this means better speeds for your website.
They do make sure that if something happens in spite of all these measures, your data won't be lost. They make nightly backups.
A Well-Rounded Hosting Service
Maybe you don't care, but Greengeeks has made it onto some exclusive lists:
Inc 5000 List – They have made the 5000 fastest growing companies list.
EPA Green Power Partner – They have been invited to the United States Environmental Protection Agency's Green Power Partnership.
Featured in PC World – PC World featured them multiple times.
Accredited Business – They are accredited by the Better Business Bureau.
The advantage is simple – not only do you get an incredibly robust web hosting platform for right around $6 a month, but you're also helping to support a green business (where energy efficiency, waste reduction, and green initiatives are all as important as profit) along the way.
Pricing is Similar to Non-Green Shared Web Hosts
Priced right around most other comparable web hosting providers, they make it a no-brainer for anyone looking to host a website or fleet of websites and help pave the way for the future at the same time.
The Green Movement is in full swing, and GreenGeeks fully embraces it.
Risk-free for 30 Days
It's possible to cancel anytime. For new accounts, there is a 30-Day Money Back Guarantee. If you don't like the service, you can cancel and get your money back. Please note that a domain fee will be charged, because this is a cost for web hosts too.
Incredible Speeds For Businesses and Individuals Alike
GreenGeeks uses the latest technology to ensure that your pages load as fast as possible. Statistics suggest that visitors to your site will abandon it if your page takes more than two seconds to load, and GreenGeeks does everything they can to make sure this happens for you.
They have the fastest SSD hard drives, and website files and databases are stored on solid state drives that are configured in a redundant RAID-10 storage array. In addition, they use ultra-optimized web and database servers that enable fast read and write serving pages up to 50 times faster than others.
GreenGeeks offers free CDN that is powered by Cloudfare, and this provides much faster web serving. They also offer HTTP/3, which provides the fastest in browser load times. Overall, GreenGeeks goes all out to make sure that client websites are running quickly and efficiently at all times.
This makes for a perfect web hosting solution for small business owners, freelancers, professionals – even someone looking to build a personal site could take advantage of the incredible fleet of tools and technology that GreenGeeks.com makes available to all of their customers.
Cons of Using GreenGeeks
The domain registration fees are not the cheapest.
You get a refund only in the first 30 days.
If you ask for a refund, you will have to swallow the expensive domain registration fee.
Uptime Stats
I have seen an uptime of more than 99.9%. That's pretty much standard among the web hosting companies nowadays. You can play around with our uptime calculator to see what downtime means for your website.
GreenGeeks Is A Great Option
While this web host is targeting a specific niche in the web hosting world, that shouldn't dissuade anyone from trying out their service. I'm glad I gave them a run through for my review I'm writing now, and there is a fantastic possibility that I stay on as a customer with them in the future.
I love the idea of helping the planet through innovation, and if you're given identical options for web hosting but can also contribute to the green innovative. I think it's a no-brainer where you want to spend your money.
Bells and Whistles
If you're looking for a stable web host with all the bells and whistles, as well as some of the best marks in the industry for reliability, customer service, uptimes, and innovations, then this green company is where you need to head to for your next web hosting project.
Armed with a professional and friendly staff, easy to use tools and technologies, and a brilliant business team GreenGeeks is going to be poised to make a run at the top dog spot in web hosting.
If you want to see what others are saying, you can check out these customer reviews.
Disclosure: I am an affiliate of GreenGeeks, and I get a commission when you click a link and purchase hosting. That's how I maintain this website. It doesn't cost you anything. In fact, I can guarantee you get the best price when you are using my links.