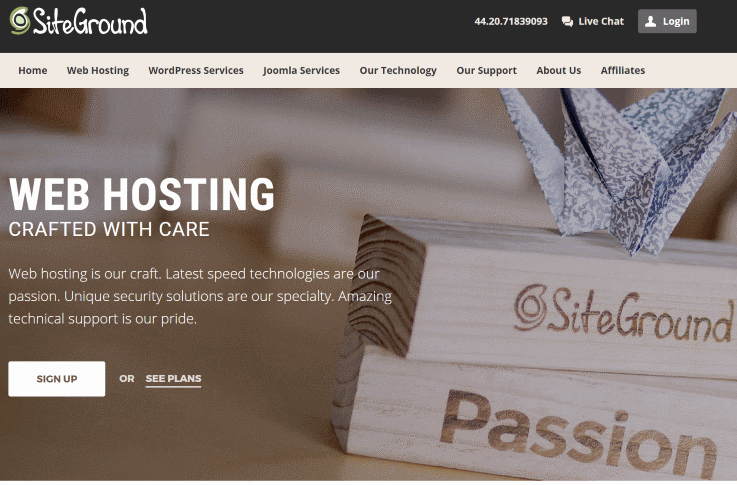 Siteground has set the new gold standard when it comes to web hosting features, customer service and flexibility. If their pricing would be a bit cheaper I would give them 5 out of 5 rating.
I see a lot of clients leaving their old web hosts for Siteground (Inmotion Hosting and A2Hosting are also rising). To be honest, I am not surprised. Not at all! Even though Siteground is in the business for more than a decade, they managed to keep up with the fast-paced industry and are leaders in innovation.
Siteground Review Summary
A Quick Summary of the Service

| Features | Review |
| --- | --- |
| Target market | Small businesses and private users |
| Uptime | Above average |
| Support | Skilled and responsive |
| Resources | Shared unlimited |
| For pros | Scaleable |
I am going to start with a more general introduction. You can just skip it if you don't care and go straight to the uptime section or the section of interest for you.
Think about This
There are a lot of factors to consider when you're looking to build an effective online presence. Whether you're working on yours for business reasons or in support of your self-expression, you need the right look for your new website.
You need to come up with a strategy!
How will you get visitors to your new website? Are you going to advertise on Google and Facebook, or are you taking a more general approach and hope that Google will send you free traffic? There are numerous resources out there that can help you come up with your strategy.
Which Web Host to Choose?
Then there's choosing the right web hosting service provider. However, knowing that you want web hosting, you can grow with into the future is one thing. Deciding on one of the many options out there is another.
SiteGround is easily one of the more popular options out there today, but is it all it's cracked up to be? I am going to take a look at what SiteGround brings to the table, and help you determine whether or not it's the right option for you.
Why Are We Hearing So Much About SiteGround?
As touched on above, there are hundreds of options out there when it comes to web hosting service providers. However, I have heard SiteGround mentioned more frequently than quite a few alternatives that have been considered go-to picks for years.
It certainly seems like just about every tech blogger has at least one SiteGround review posted these days! But what does it have going for it that the competition apparently doesn't?
Meet the Founders
SiteGround as a company was started 11 years ago by Tenko Nikolav, Reneta Tsankova, and Nikolay Todorov – three university friends on a mission to take web hosting to the next level worldwide.
Their vision was a hosting service provider that was safer, faster, and featured better support than any of the existing options. SiteGround is the result of all their hard work.
They have Millions of Happy Users
Today, SiteGround appears to be living up to its original potential with millions of happy, satisfied customers to its credit. Customers praise Siteground most often for the attention it pays to site safety, staying abreast of current hosting technology and overall site speed.
Competitive Pricing
SiteGround is also well-liked for offering their services at price points considered to be extremely affordable in comparison to the competition.
High Uptime Percentage
If there's one thing nearly every website owner tends to complain about when it comes to their web hosting service, it's uptime issues.
You Come with Expectations
You set up your site with the hope that it will see traffic at all hours of the day. However, if your hosting provider doesn't place a high enough priority on uptime, you'll know about it as soon as your visitors start complaining to you about not having been able to access your site the last time they visited.
And Your Expectations are Met
It's a natural thing that every web host out there is going to have some downtime. They have to do maintenance and upgrades.
Also, outages and other issues that may affect service quality occasionally happen. However, SiteGround is one of the few options out there that can boast a remarkable 99.99% when it comes to their uptime percentage. Now let's look at my uptime tracker.
It's a pure 100%!
Not only is 99.99% pretty much the industry standard percentage, but SiteGround also stands by its service with an ironclad guarantee. If at any time a customer experiences more than 0.01% downtime over the course of the calendar year, then they're promised adequate compensation to make up for it.
Phenomenal Customer Support
Tech support is something people don't think to worry about when they're actually in the process of selecting service providers. They usually realize their mistake the very first time they try to get someone on the phone to discuss an issue.
Unfortunately, there are service providers that are all smiles and promises when they're trying to attract your business but don't care enough to deal with issues once they've got it. Avoid those! I am not pointing fingers out of character so that you won't see them on Hosting Manual. I only review web hosts that I trust.
Ready to Serve 24 Hours a Day
It's quite prominent that support at Siteground is pretty much unbeatable! Yes, they're great at answering your questions before you purchase a package. But they remain equally sound once you're a customer.
SiteGround's customer support department is open 24 hours a day and seven days a week, so you're guaranteed support at literally any time of the day or night.
Zero Hold Time
The folks that run SiteGround are also well aware of how frustrating it can be to call in for support and wind up sitting on hold for a ridiculous amount of time.
That's why they guarantee zero hold time when it comes to both phone support and live chat support!
You can even send in an email ticket and receive a response within 10 minutes max. You're guaranteed to be able to talk to a real person every time as well – no annoying bots or automated systems to deal with.
Unique Tools for Popular Applications
I don't know about you, but I am a WordPress guy. I tend to run all my projects on WordPress, even if it's not strictly a blog. I guess everyone has his or her favorite tool.
Siteground took the most popular ones and had created a multitude of handy specialized tools designed for those platforms. If you're a Joomla or WordPress user, you'll be even happier with SiteGround as your web hosting service provider.
Auto-installers support both platforms for easy startup (and a lot of others). SiteGround also features automatic updates for both to help make sure your site remains as secure as possible at all times.
Joomla and WordPress super-cachers help make sure your speeds stay as high as possible. They have staging and Git support for geekier users that prefer a hands-on approach as well.
Superior Cloud Hosting
If you've been running websites long enough, you probably know what cloud hosting is. SiteGround offers some of the best cloud hosting services available today.
Specific features include ample content storage and multi-platform support. You'll be able to access all of your data exactly when you need it no matter where you happen to be.
Regular Backups for Free
Even the most experienced webmasters make mistakes. Heck, once I have deleted the wrong database and had to manually restore my website from Google cache because I didn't have a recent backup. You won't have to remember to perform frequent backups yourself. SiteGround backs up your databases for you on a daily basis.
They also offer advanced monitoring to make sure that your service is always flawlessly reliable. And that 24/7 support we mentioned above? That applies to all of your cloud data as well.
Excellent Members' Area
Not every web host can say that they offer a terrific members' area to explore their service, but SiteGround does. They understand how important convenience is to today's consumer. No one has the time or patience to waste hunting around for what they need.
That's precisely why we were impressed with SiteGround's user area. You can easily access your account and all relevant information without the least little bit of hassle. Monitor your domain, view your current billing status, and keep track of any tickets with ease.
The overall design is sleek-looking and easy to navigate as well. It's handy when you need to quickly check on something specific about your account!
Extremely Affordable
Of course, service quality isn't the only thing you're concerned with when it comes to building, managing, and running your website. You need reliable, high-performance services that are affordable on a limited budget – options that are just as appropriate for small business owners, independent bloggers, and startups as they are for large corporations.
Shared Hosting Plans
SiteGround delivers when it comes to value. Currently, they offer three different service packages to suit a variety of needs. They are as follows.
SiteGround Startup
This package is exactly what it sounds like – a basic but comprehensive startup package for those that have just begun to get the ball rolling with their site. Perfect for beginners while remaining highly compatible with standard traffic volumes (up to 10,000 monthly visits)!
It's also ridiculously affordable considering what you get for your money. (Startup packages begin at a special price of just $3.95 per month – less than most people spend on their morning cup of coffee.) Features include:
10GB of web space
Support for one website including all essential hosting elements
Free domain name, setup, and transfer services
Full customer support and panel access
The Startup plan also comes with a 30-day money back guarantee – perfect for those just starting out that may not thoroughly understand the full scope of their needs.
SiteGround GrowBig
GrowBig is the next tier up on the scale. It's designed for website owners looking to successfully and economically host multiple websites without the need to pay for multiple accounts. It should be enough for up to 25,000 monthly visits total. Pricing is reasonable, starting at just $7.95 per month. It also includes:
20GB of web space
Lightning-quick speeds
Free SSL certificate for up to one year
Streamlined support for both Joomla and WordPress.
Siteground Gogeek
GoGeek is SiteGround's go-to hosting solution for those looking to host multiple websites affordably without having to worry about downtime, slow load times, and other common issues. It should be able to handle up to 100,000 monthly visits starting at rates of $14.95 per month. Features include:
All standard features covered by either of the other two packs
30GB of available web space
Additional premium features designed for advanced webmasters including e-commerce tools, other performance tools, hardware, and access to various innovative features that offer superior control.
Quite a few of SiteGround's customers are just getting started when it comes to running large-scale blogs, business websites, or e-commerce sites. Others have been in the game a lot longer and are looking for affordable alternatives to current services.
There are a lot of SiteGround reviews out there. Both beginners and advanced users have collectively expressed a high level of satisfaction with the value, efficiency, and reliability of the services.
Those making the switch from another service found the transition to be seamless and exceptionally easy to make.
You're certainly free to start with a smaller package and upgrade your service as your web presence grows and requires more resources.
The Pros and Cons of Choosing SiteGround
As far as what we feel sets SiteGround apart from the competition, it's all about the high levels of uptime. Downtime can be a killer when it comes to your web presence, as people are not patient as a rule. I was pleased to find out SiteGround was as good as its word when it comes to that 99.9%.
Speed can be another real obstacle when it comes to running a successful website. Slow loading times and speed problems can make the associated business seem less than professional. Even a few milliseconds can make the difference between being chosen and losing business to a competitor. The sites I have worked with always load quickly and easily without a problem.
The main disadvantage to consider is whether or not the included storage space is enough. Contrary to other web hosts, Siteground limits the storage space (another company who does that is Inmotion Hosting). That's a good thing in my opinion. Let me explain why.
Most of the users wouldn't use even the allocated disk space. It means much better performance because servers are not oversold (too many customers on one server, as it is the case with a lot of the other web hosts).
Ultra-large sites that see hundreds of thousands of visits every month may need resources that even the GoGeek package can't adequately cover. Make sure you understand the true scope of your requirements when evaluating your options.
In Conclusion
In a day and age when so many people complain of frequent issues like slow load times, bandwidth problems, and excessive downtime, it's refreshing to see that there's a company like SiteGround out there. They've already set what's considered to be a new gold standard when it comes to features, customer service, and flexibility. In other words, it's easy to see why so many website owners are making the switch to SiteGround once and for all. Explore the possibilities for yourself today! You will be glad you did.
Disclosure: I am an affiliate of Siteground, and I get a commission when you click a link and purchase hosting. That's how I maintain this website. It doesn't cost you anything. In fact, I can guarantee you get the best price when you are using my links.