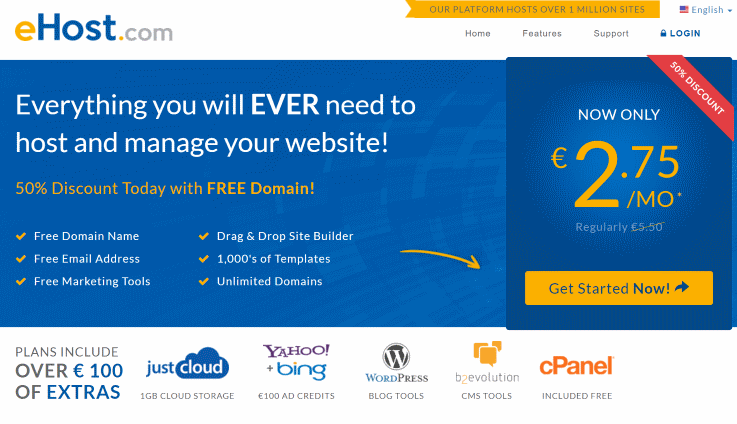 eHost is the sister site of Bluehost. While Bluehost offers services ranging from shared web hosting to cloud and dedicated servers, eHost has a simple shared hosting plan. Compared with Bluehost's shared plan it's significantly cheaper.
Over the years I have dealt with a significant number of web hosting companies. My top list included Bluehost, Siteground, and A2Hosting. I came across eHost just recently and decided to use them for a new project. Here is my report after six months.
Anytime something is this inexpensive I'm left wondering "is it too good to be true?"—especially if it actually provides all the free features eHost claims. However, I found out that there is a reason eHost has been around since 1998. Though not the most popular web hosting site on the internet, they are really transparent about their offerings and all the claims they make are proved to be true.

I had the privilege to try both the old and new service. A couple of years ago when I tried the old company, I was not impressed. So I was quite excited when I got a client with the revamped eHost. Finally, I can see how they work nowadays. And I started testing everything in the account.
eHost Company Background
Before we get started on the review, here's a little background on their company. Founded in nearly two decades ago in Houston, Texas, eHost is a subsidiary of the Endurance International Group, Inc (EIG).
They also own some of the most popular website hosting companies and claims to host over one million websites on their platform currently. Being part of the EIG network of enterprises means eHost has the support of a technological giant to help regularly update and optimize the features of their hosting platform.
They are partnered with the Cyrus One data center also located in Houston, Texas. Cyrus One provides 2N power and redundancy and constant upgrades in a state-of-the-art facility, so you don't have to be concerned about your site failing because of server issues.
Cyrus One also provides PCI security compliance to protect the financial information of you and your customers and HIPAA compliance to protect any possible medical information transferred on your website. So they are a very reliable and trustworthy data center for hosting sensitive information.
Better Business Bureau Rating
Being a subsidiary of EIG means they have a vast tech background. As with most retail businesses, that's not enough. The customer experience is a much better way to evaluate a web host. Here is a snapshot of their BBB rating, although they are not accredited:
However, as part of the EIG group we can also factor in their BBB rating when evaluating eHost:
As you can see, BBB gives EIG their highest rating of A+. So simply from a business standpoint, they can be trusted for your web hosting needs. Now on to the features!
Key Selling Points
eHost provides all the standard features you will find with any website hosting company like a free domain name, email hosting, bandwidth, storage space, add-on domains, MySQL database, FTP accounts, and free and paid-for plugins to customize your site. Their main selling points are:
Affordable: With a current month rate of $2.75 for hosting, design, and marketing, they cannot be beaten simply from a pricing standpoint. They also offer a full 30-day money back guarantee if you do not like the service. Furthermore, eHost does not require long-term contracts, and as far as I can tell, there are no hidden fees. So I think just from a financial risk standpoint, it's worth checking out.
24/7 Customer Service: eHost provides 24/7 customer service with a 2-minute response time guarantee. They provide customer service through email, phone, and chat with professionally trained, web hosting experts. So if you ever get stuck or have any questions, you don't have to worry about fighting your way to a customer service queue or calling at the right time to get some answers.
Design Suite: Their design suite is impressive, offering 1,000s of pre-built templates customized to different hosting needs to get you started. They also offer a drag and drop builder to make customization easy and a range of blog and webmaster tools, photo galleries, and an online store to grab even more of the features you would want.
Marketing Suite: At over a $200 value, eHost offers a marketing suite so you can start driving traffic to your site right away. The suite comes with $100 Google Adwords credit and $100 credit for Yahoo/Bing. They also have built-in site analytics software, valuable SEO tools, and website authentication so that you can guarantee the success of your site.
These features are perfect for anyone starting out with their first website. I also think these features are ideal for anyone looking to launch a professional site who needs little overhead and basic functionality, like a smaller or local business. That is not to say that the host isn't ideal for people who are a bit more advanced and want things like SSH access or high-quality analytics tools because eHost offers those as well.
Uptime Guarantee Program
eHost offers a high uptime guarantee program. If the server falls short of the 99.9% uptime performance guarantee measured over a 30-day period, eHost will give you a full month of credit to be used at your discretion. They do not, however, count pre-scheduled server maintenance as downtime.
Also as with any uptime guarantee, the downtime has to be a result of the servers and not user error. A full month is a pretty solid return if your site goes down for a few hours (although I would prefer to stay online).
Performance
From your cPanel, you can monitor your servers pretty easily. You simply expand the "Stats" menu on the left-hand side. Then click on "server information." As you can see, my site is operating on a server with 32 CPUs with 0.03 load. A load below 10 is quite good.
To further investigate the uptime of my website, I used the third party site Uptime Robot to see how the site performs. The uptime rating has been very consistent with an overall response time flat-lining around 500 ms and as of yet, has had no downtime:
Cyrus One has a 100% uptime guarantee and provides a clustered architecture to back it up. This means if any one server goes down, the load will be immediately transferred to another. They also have 24/7 hands-on monitoring, so if they ever encounter a larger issue, you'll be back up and running in no time.
Measuring Load Time
Uptime is critical, but speed matters more to some people. With the expectation of instant access, people will not often wait for a site that is slow to load. So I decided to look a little further into my website's load time. I tested it with Pingdom and was very pleased with the results:
A 1.72 second load time is pretty phenomenal, though to be fair my page size is relatively small at only 710.2 KB. However, as you can see, Pingdom rated my eHost site as having a 77% faster speed than other sites tested and gave it an A rating. Even with a small site, overall ratings like these mean you won't have to worry about a potential visitor getting frustrated and leaving before your site even loads.
Server Resources
eHost has some pretty standard server specifications for the industry. They run on CentOS Enterprise Linux x86 servers that offer 100 Mbps and run weekly backups. Some other technical specifications include:
32 Core AMD Opteron Processor 6376
64 GB / 32 GB RAM
4 RAID 1s
SSD MySQL
Now unlike other web hosting sites that claim "unlimited hosting," eHost is more transparent with their server limitations. They instead offer "unmetered hosting" which means that they will not restrict your storage space and bandwidth if you fall into reasonable usage amounts. They lay out what they consider reasonable right on their site, so you can make sure you stay within the parameters of the server resources. Here are their expected server limitations:
These are very reasonable standards, so I don't think you will have to worry about your account being suspended unless you are abusing their hosting capabilities.
Mobile Responsiveness
Nearly 80% of web browsing is now done on mobile devices, so it is vital to make sure that any hosting platform we choose is fully mobile responsive. I found that eHost has both mobile optimized templates and plugins so that you can reach a mobile audience with your site.
Exploring cPanel
eHost uses cPanel for managing all the important aspects your websites like email, analytics, and plugins. Though eHost's cPanel is customized to their particular offerings, cPanel is used by some pretty popular web hosts, so you may already be familiar with how to interface with this management tool which is nice.
Looking at the cPanel, you can see in the left-hand column some easy, quick links that can help you manage your overall network of websites and gives you access to all of your statistics. In the main panel, there are label icons for the different features that can help you improve your site.
So it has easy navigation. I particularly like how the main page is broken down into sections including Add-Ons, Quick Installs, Files, Databases, Domains, Email, Metrics, Security, Software, and Advanced. So you don't have to dig around to find out the features you need. You just go to the section, click the button, and it will guide you through the tool step-by-step.
The Quick Install Menu
With eHost's Quick Installs menu in cPanel, you can instantly install your favorite software to your site. The Quick Install menu offers some of the most popular platforms like WordPress, Drupal, and phpBB. If you don't see your preferred software listed in the easy access buttons, you just click the Quick Install icon in the control panel to choose from a selection of hundreds of other popular tools for content management, e-commerce, content management, and analytics. You can also directly upload any software into your File Manager under your "Files" section on the cPanel.
The Quick Install Menu And WordPress
The Quick Install menu is perfect for anyone who uses WordPress for their website design. With their shared hosting plan, you can easily transfer your WordPress-designed website to eHost for more affordable hosting. I think this feature is a huge selling point because it offers the best of both worlds: The high-quality, versatile design of WordPress and the affordable and reliable hosting of the EIG network.
Managing Your Domain Name
One of the cool features is a free domain for life, unlike other sites where you will have to pay for your domain after the first year. If you decide to switch hosting services at any time, you can pay them a nominal fee, and they will continue to protect your domain name until you point to another DNS.
If you are looking to switch domains, eHost does allow domain transfer. I found that transferring the domain name isn't as easy as I was hoping. First I had to get the DNS information from my old host. Then, I had to contact customer service to get the EPP key. They did send a helpful email with step-by-step instructions, but overall it's a bit tricky if you are switching hosting platforms.
Site Builder Design Panel
Though interfacing with WordPress and other popular web design platforms gives eHost an edge, they also offer some pretty impressive design tools themselves. When you first sign up to launch a website, you will be presented with a welcome screen that offers the option of either going directly to your C-Panel or to the site builder which will help you construct your website from scratch:
From there you can choose a layout based on the type of website you are building and your style. Once you have a template selected you can upload images, add text, headings, and buttons. It's super simple to start your build, you just drag and drop the elements you like from the side panel shown here right to your template:
Awstats
Awstats is a reliable feature for tracking traffic and measuring site analytics, especially if you don't want to use a third party solution (like Google Analytics). When you first log in to "Manage My Websites" you just press the "Stats" button which will take you to a screen that has some pretty detailed statistics.
The analytics section tracks everything you could want to know about your site traffic. I particularly love how the graphs are color-coded for easy visual interpretation of the data. This is a great tool if you are experimenting with SEO tactics or a new marketing campaign. I also really like that this information is broken down into specific timelines, authenticated users, and location. So if you are running an e-commerce site, you can see how effectively you are reaching your target customer base.
Obviously, this is not the most sophisticated solution, but with a little fantasy, it can prove very useful.
eHost For e-commerce
I have to say the more I have explored the features and tools on eHost, the more apparent it has become that this is a great hosting site for e-commerce. So I decided to explore some of the solutions they offer for businesses. Here is a rundown of what I found:
Online Store: Free online store provided with cPanel.
SEO: For $7.70 a month you can add SEO Interest which can help you manage the always complex SEO.
Shopping Cart: Between $4.74-$32.04 a month depending on the package eHost is partnered Ecwid E-Commerce shopping carts. Ecwid is probably the most user-friendly shopping cart on the internet, so I was excited to see this partnership.
Credit Card Processing: You can choose direct pay with PaymentSphere for $9.95 with transaction fees and/or Paypal with no upfront charge.
SSL Certification: eHost offers both Positive SSL Certification for $31.99 a year and Extended Validation SSL Certification $269.99/year to protect the security of you and your customers.
Product Sourcing: eHost is partnered with Doba. Doba is a supplier-driven marketplace of over 2 million unique products, making it easy to manage the sale of third-party products.
eHost also offers interface compatibility with some of the most popular eCommerce software products including Magento, PrestaShop, TomatoCart, and Zencart.
I like that they don't offer plug and play packages for e-commerce, which can be a big waste of money. Choosing only the software and tools you need is a cost-effective way to tailor your eCommerce site.
Email Hosting
One of the things I liked about eHost is that there is a lot of flexibility with their email hosting. They allow as many email accounts as you'd like, so each of your employees can have their own. They also offer a generous amount of space for each email at 500 MB, which is essentially 10,000 emails.
Downsides of Using eHost
Though I have to say I'm overall impressed with eHost, I did find some serious downsides you need to consider before signing on:
Increasing Hosting Costs: Though your first year is incredibly inexpensive, they renew at much higher rates. For long-term pricing, it is $5.98/month for three-year renewals, $7.98/month for two-year renewals, $9.98/month for one-year renewals, and $13.98/month for a month-to-month renewal plan. These are some pretty steep increases, but honestly, they are still really competitive with other hosting platforms.
Upsells: Another cost factor is the upsells. Though the initial monthly fee includes all the basics, eHost pushes the upsells which is where I think they make their real money. Most of their upsells are pretty standard. However, there are some upsells that raised my suspicions like selling social media followers, spam directories, and bots. So just be careful what plugins you choose.
Difficult To Upgrade: Though I like this host for small, local, and startup businesses, I wouldn't necessarily recommend it for growing companies. They focus primarily on shared hosting, so are pretty limited in what they can offer and have no real plan to meet the needs of a large business operation. So if you are expecting your company to take off and will eventually need a VPS or a dedicated server, you should look into a more full-service website hosting company.
Can't Change Your Design: eHost's primary focus is web hosting, and even though they have a great site builder tool, you have to pay for it separately if you want to make changes. So once you build your website with the site builder, you're stuck with the design you choose. This isn't a problem if you are interfacing with a web design software like WordPress, but it's important to know that you need to design your site exactly how you want it out the gate if you are using their site builder tool.
Overall
In the end, I found that the 2015 relaunch was a great idea and I'm pretty happy with my experience. eHost now has some impressive features for an incredibly affordable cost. Though I wouldn't necessarily recommend this site for larger companies, I think it's a great hosting platform for people just starting out and smaller companies. It's easy to use, offers all the basics you need, and is extremely reliable.
If you decide to go with eHost, I definitely would recommend that you design your site elsewhere because even though the site builder is easy to use, it's a bit problematic. Luckily, eHost easily interfaces with some of the most popular web design companies so that it will be easy.
Disclosure: I am an affiliate of eHost, and I get a commission when you click a link and purchase hosting. That's how I maintain this website. It doesn't cost you anything. In fact, I can guarantee you get the best price when you are using my links.