Hostinger has securely cemented its roots in the retail hosting sector. Their entire ethos revolves around providing customers a workable and affordable solution for their hosting needs. They offer a variety of plans, packages, and hosting types. Some of which are better than others.
Hostinger is one of the hosting worlds great success stories. They started back in 2004 and had gone through some tough times to grow into one of the most respected hosting providers on the market. They currently provide hosting in over 178 countries, they have 29 million clients, and they're gaining around 20,000 new sign-ups each and every day. They are in direct competition with companies like Bluehost.
Today we are going to take an in-depth look at Hostinger and their packages to see what's good (and what's not so good) about them. I have a business account set up and ready to test ride. Before we even go into technical details, I have to applaud their site of its user-friendliness. As a first time costumer I can find everything pretty easily.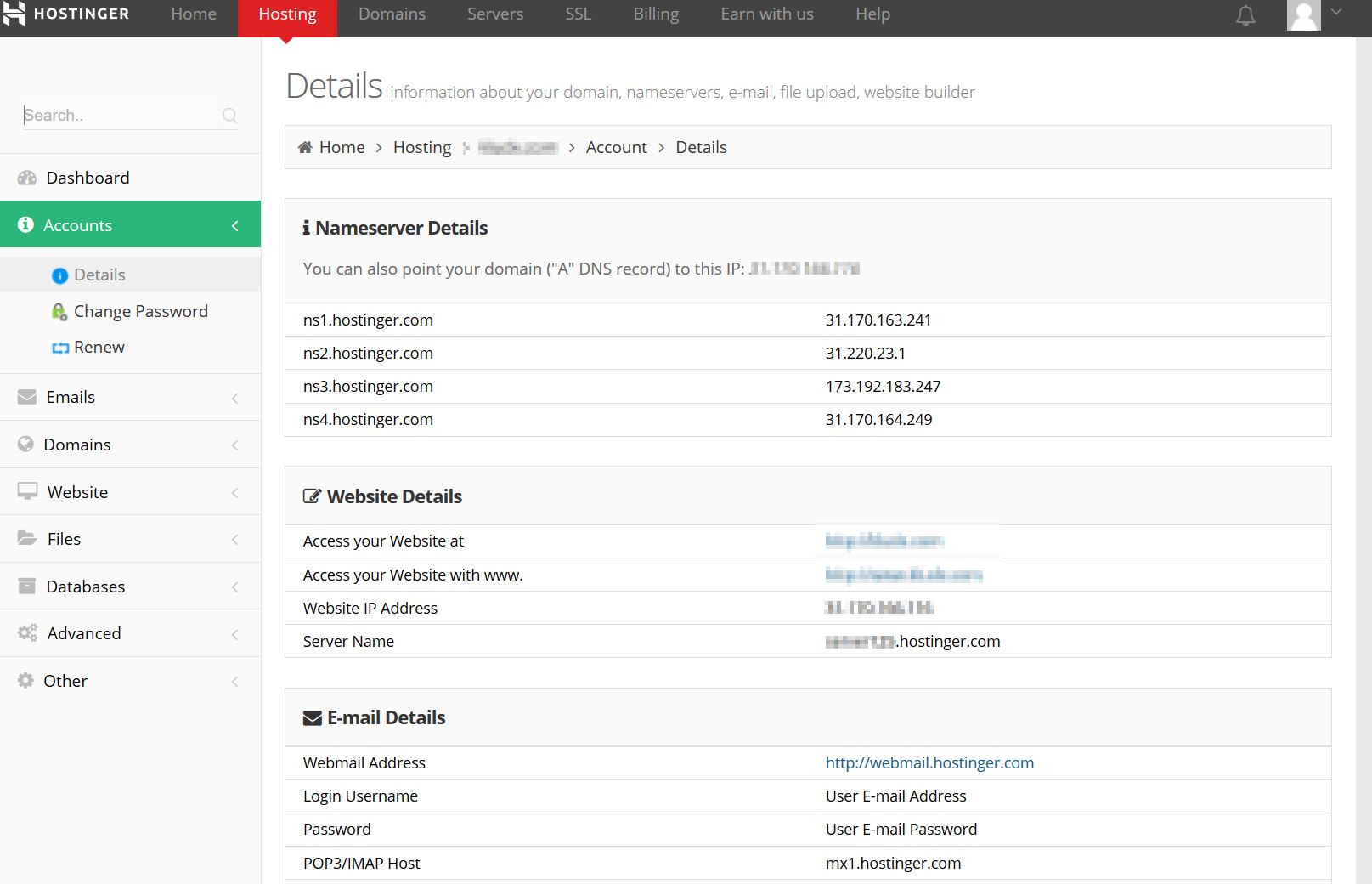 We're going to leave no stone unturned today, so grab a coffee and get comfy – because this is going to be a long one.
Let's get started.
Web Hosting
Hostinger offers two main kinds of hosting, their shared web hosting and their VPS solutions. Their shared hosting is undoubtedly their most popular product, and it's what the vast majority of their 29 million clients currently use.
It's a shared hosting service and is available in 3 different plans (single, premium, and business), and each provides more features and functionality than the last.

Let's take a look at them in detail.
Basic Plan
As the name suggests, this is Hostinger's entry-level plan and it's not exactly "fully featured". However, at $3.99 per month (and often less with one of their frequent promos) you need to set your expectations realistically.
The basic plan allows new webmasters to dive into the world of hosting with a convenient and affordable service that gets the job done. The plan only allows one website to be hosted on it, and the resources it allocates represent that. You can have 10 GB of data storage, 100 GB of bandwidth, 1 MySQL database, 1 FTP user, and 1 email account.
As you'll probably agree – that's a pretty bare-bones package. If you've only got one website and you just need somewhere for it to run without any bells and whistles, then it's a viable option.
However, you may find the one email address limitation to be an issue. Many small businesses will only have one website, but they may have multiple emails. If that sounds like you, then you're going to need to look at one of the more comprehensive plans.
Verdict
Considering the price this package is exceptional value for money, and your site will be safe, secure, and reasonably speedy. However, many webmasters will find it too restrictive and should consider the premium (or business) plan instead.
Premium Plan
The premium plan is roughly twice the price of the basic plan, but it's an entirely different beast. It unleashes most of the functionality and power that Hostinger has to offer their shared hosting customers.
It is designed for webmasters who have several sites (or who are serious about their speed). You can host 100 websites, use an 20GB of disk space, and eat up an unlimited amount of bandwidth. You can have as many MySQL databases as your websites need, and you can create 100 FTP accounts too.
Many people stick with the premium plan to host most (or all) of their websites. It's a powerful fully featured plan that's more than capable of handling several medium sized average popularity sites that get thousands of page views per day. According to Hostinger, this plan can host ~25,000 monthly visitors, which is just under 1,000 visitors a day. In my personal opinion, it can host as many as 3,000 daily visitors if you don't have a bloated theme, unnecessary plugins, and you use a caching plugin.
As WordPress is the most popular CMS on the planet, Hostinger has optimized their premium plan with WordPress in mind. They've made some tweaks to their architecture and settings to ensure that their clients who use WordPress on their premium plan get three times more speed than those on their basic plan.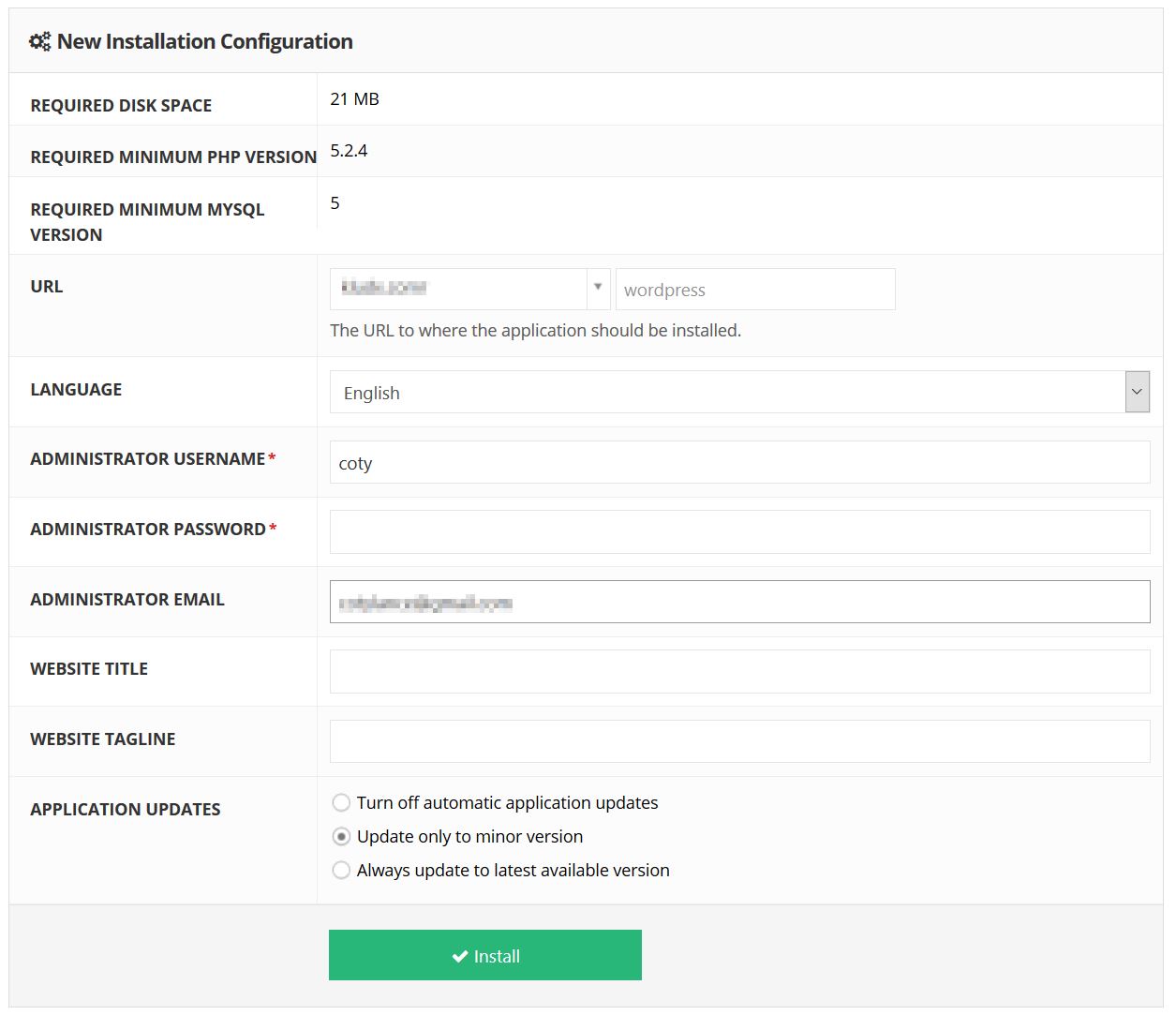 If your website is running on WordPress and is monetized at all (via a service, product, or advertisements), then this speed boost will be more than enough to pay for the price increase over the basic plan. Even a loading time increase of a second is enough to entice a significant percentage of your traffic to hit the back button.
The premium plan also includes a domain name as standard with the package. You can choose from any of the most common TLDs, and there's no annual renewal fee – it's all included in the price.
You'll also get a free SSL certificate with the premium plan (which is something we love to see).
In spite of their offer clearly stating a free SSL certificate, they don't provide it. You have to pay $17.48. It's a one time activation fee, not a recurring charge. I have contacted support about this and they have activated it for me free of charge.
SSL protects your visitors from man in the middle attacks and represents a much safer browsing experience. It gives you the little green padlock in the top left corner of your address bar saying "Secure," and it gives you a little extra Google love to make you rank higher in search engines.
Verdict
The premium plan is an exceptional package that we highly recommend to most webmasters. It's a comprehensive option that is going to be able to handle decent amounts of traffic and provide impeccable loading times. The free SSL certificate (even with the activation fee) and domain name are excellent features, and the WordPress speed boost is a very noticeable (and valuable) addition.
Business Plan
Hostinger's business plan is the most comprehensive of all of their shared hosting packages and that's what we've signed up for. It's also the most expensive. However, it's only around $3 per month more than their premium plan and contains several exceptional features that for many people will be well worth the money.
Like the premium plan, this is a powerful package. In fact, everything that is included in the premium plan is included in the business plan. You still get a free domain name and a (paid) SSL certificate (and you can store and access as much data on as many domains as you want).
The most obvious difference between the business plan and the premium plan is the 100GB of SSD storage and the better resource allocation. All of Hostinger's web hosting plans are stored on the same servers. The only thing that separates them is the configuration and how much resources they are allowed to use.
Hostinger clients who opt for the business plan get double the RAM allocation and double the CPU allocation. This is a huge difference in terms of performance. The premium plan is already an exceptionally quick option, but by doubling it, the business plan is so fast that it's almost silly.
But Hostinger doesn't stop there. If you're running WordPress things are going to be even faster.
The 3 X speed boost that the premium plan offers has been further increased in the business plan to a 5 X speed boost. Unless you have a huge amount of traffic (over 10,000 visitors a day), your site is going to run incredibly fast.
Read: How to speed up any website (especially WordPress)
Here is a speed test with a default WordPress installation with the Twenty-Seventeen theme.

That First Byte time is outstanding and the load time is excellent too.
The other main benefit of the business plan is that it includes automated backup functionality. Manually backing up is a long, repetitive, and tiresome task that many people stop bothering with after a while. This, however, is a big mistake, because sooner or later the worst will happen and you're going to need to at least partially restore a backup.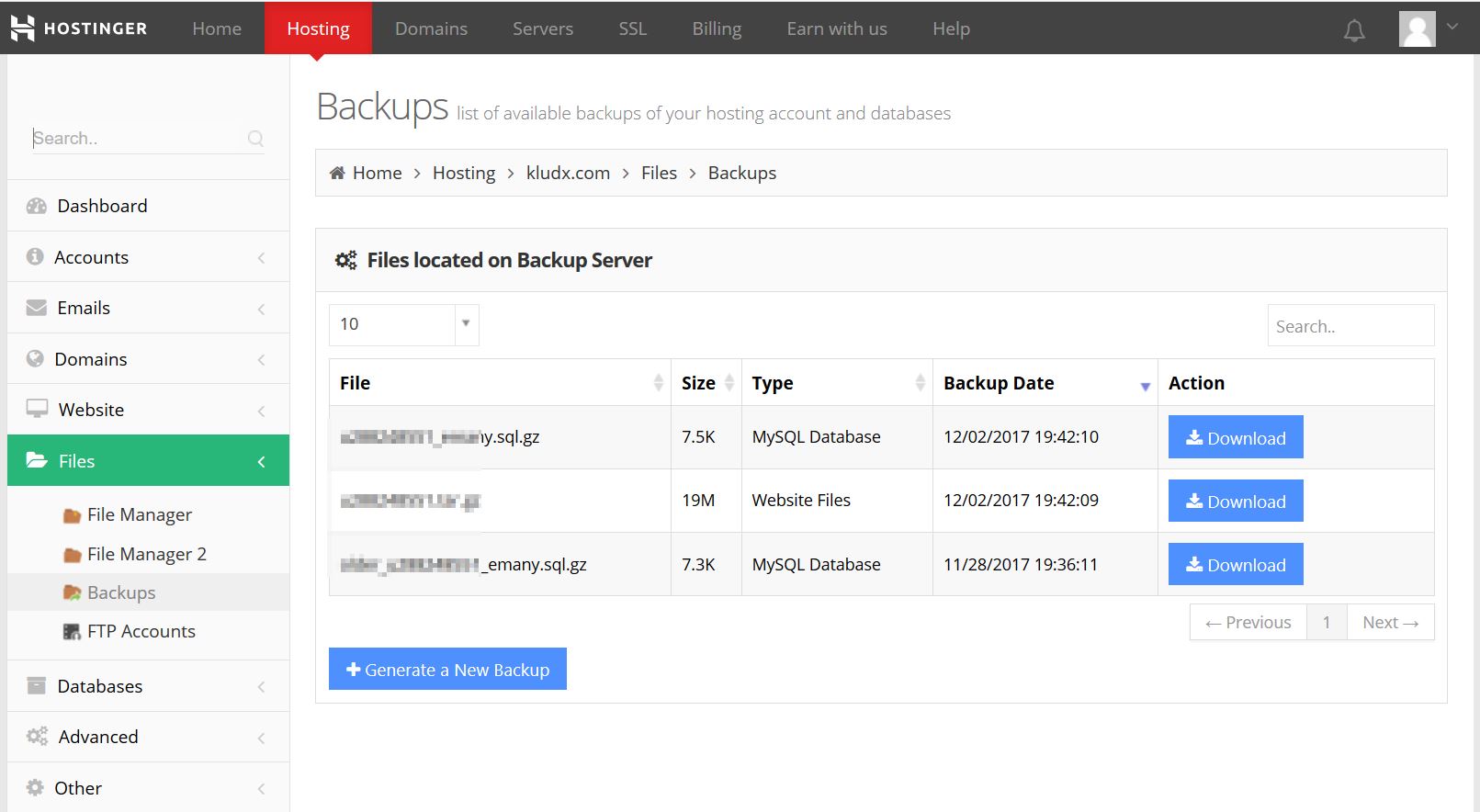 By automating the entire process for you, Hostinger allows their business plan customers to have complete peace of mind. If the worst does happen, you're going to have a long list of backups you can restore with the click of a button. It's the ultimate safeguard system that's going to save you a lot of time and potentially stress.
Hostinger's business plan customers also get priority access to their premium support team. Through live chat, you'll be connected to an expert support agent that will handle any issues and provide assistance in real time (which means you don't have to wait for a ticket reply).
Their team is fast, efficient, and will resolve most issues within a matter of minutes. If you're new to the world of web hosting (or WordPress), this is a feature that is worth its weight in gold.
Verdict
The business plan offers a mind-blowing speed boost compared to the premium plan, especially for WordPress websites. The automated backups will almost certainly save your bacon at some point or another, and the direct access to deluxe support is a blessing for new and experienced webmasters alike. In our opinion, it's well worth the extra $3 per month.
WordPress Hosting
Something that I get commonly asked about is the difference between Hostinger's web hosting and their WordPress hosting packages. I've done quite a bit of research into this, and as far as I can see the differences between the two plans are either minuscule or non-existent.

The prices charged for their WordPress hosting and their standard web hosting are exactly the same. I took a look at the feature breakdown of each of the packages (in all three plans), and they were literally identical. I couldn't find a single thing to differentiate them. It's my opinion that Hostinger's WordPress plans are in fact the exact same product as their traditional shared web hosting.
Which isn't a bad thing – but it might confuse some people.
Traditionally WordPress hosting comes in two varieties – managed and unmanaged.
Managed WordPress hosting plans are much more expensive than unmanaged plans. A developer from the hosting company is responsible for maintaining and updating your site (instead of you having to do it).
Unmanaged WordPress is the opposite of this, it's for all intents and purposes a normal hosting package that is simply capable of running WordPress. This is what Hostinger's WordPress hosting is. It's just their standard web hosting plan rebranded.
As I mentioned above, Hostinger's premium and business plans are exceptionally good at running WordPress. Sites hosted on them run at lightning speed thanks to the server configuration providing a 3 X or 5 X speed boost.
Verdict
Hostinger's WordPress hosting is clever marketing that uses a different term to describe their standard hosting plans, they are identical. But that doesn't change the fact that their premium and business web hosting packages are still an excellent option for WordPress webmasters.
VPS Hosting
Hostinger's VPS plans provide a way for webmasters to obtain unbeatable reliability and speed on a reasonably low budget. They currently offer 6 plans which range from $9.95 through to $79.95 per month.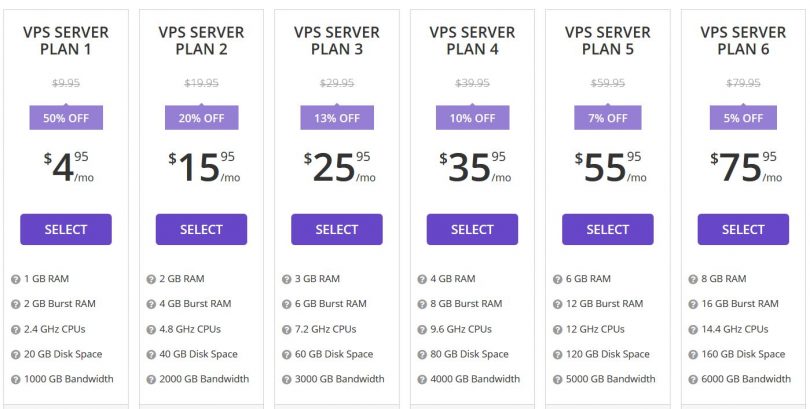 With each plan, the specifications improve upon the last. Ram ranges from 1 GB through to 8GB (2GB to 16GB burst) and the CPUs range from 2.4 GHz through to 14.4 GHz. Storage space is generous on even the lowest level VPS plans that have 20 GB of SSD storage, the highest levels will provide you with a whopping 160 GB of SSD space. Bandwidth scales similarly starting at 1000 GB for plan 1 and going up to 6000 GB for plan 6.
If you know what you're doing and can manage a server, then it may be a better option for you to consider a level 1 or a level 2 VPS instead of one of the web hosting packages above. This is mainly because you've got a much greater level of resource isolation with a VPS than you do with shared hosting.
Shared hosting plans require webmasters to be on their best behavior, one account overusing resources can slow down the entire server for everyone. With a VPS you're sharing a server with a much lower number of people, and more importantly – Hostinger ensures that your resources are ring-fenced.
This means that you're going to be guaranteed the performance associated with the RAM and CPU power of the plan you've picked. It doesn't matter what the other VPS accounts are doing on the server – you've got reliable and predictable stability.
As Hostinger don't oversell their resources they're also able to offer a decent amount of burst RAM that can be shared among the VPS accounts on the server. If you suddenly get a large traffic spike that requires additional power, you can use the shared burst RAM temporarily to keep adequate performance.
With each plan, you'll get your own dedicated IP address for your server. This is a huge advantage over shared hosting (although dedicated IPs can be added to most shared hosting plans for an additional cost).
IP reputation determines how email services and search engines view your site. On shared hosting you'll be using the same IP address as many other webmasters, if one of them is doing something naughty – you're going to be negatively affected by it. By giving you a dedicated IP address you're going to avoid all of these issues.
Like with the business shared hosting plan we mentioned above you get direct access to Hostinger's dedicated live chat support team to give you a helping hand if something goes wrong.
Hostinger doesn't automate the backup process of their VPS plans (as it's ultimately your server and your responsibility). However, they do make the process exceptionally easy for you. From your control panel, you'll find a one-click backup system that will get the job done with the minimum amount of fuss possible. Restoring from backups is equally as easy and with a few quick clicks, you'll be able to get yourself back up and running in no time at all.
As you would expect you get full root access to your VPS, and it is IPv6 compatible right from the start. All plans of VPS are connected to the same ultrafast network in Hostinger's data center that is capable of transfer speeds of up to 100 MB/s.
Verdict
We feel that Hostinger's VPS plans are exceptionally good value for money. The resource to price ratio is one of the best on the market down in this price bracket. The amount of computing power and storage space combined with the generous bandwidth allowance make it a service that is more than worthy of your consideration.
Cloud Hosting
Hostinger has done a similar marketing trick with their cloud hosting as they did with the WordPress hosting we mentioned above. Their cloud hosting is, in fact, their VPS hosting just under a different name. This is a fairly standard practice among hosting companies in the budget price bracket. Just be aware that they're the same thing that provides the same performance and seamless scalability.
Talking Points
Now that we have covered the different packages on offer let's take a look at a few talking points that are worthy of a quick discussion.
Ease Of Use
While Hostinger offers some serious packages with serious performance, they are one of the most popular hosts with new and inexperienced webmasters. Their shared hosting packages are designed to be as user-friendly as possible. They have one-click install solutions for popular systems (like WordPress), and their friendly support is always on hand to help out wherever required.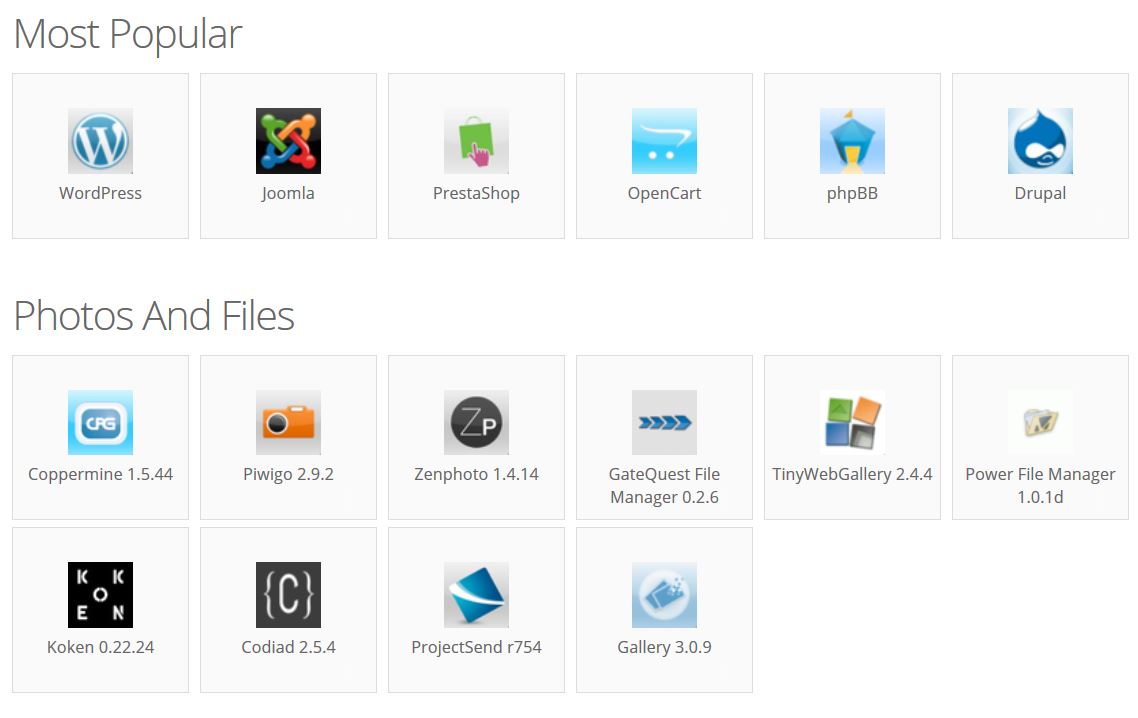 Free Webhosting
Hostinger is owned by the same company that runs 000Webhost. If you're looking for a super basic web hosting plan, you can try out their free tier if you wish. However, you get what you pay for with hosting – and a free hosting plan will be painfully slow and unreliable. It shouldn't be considered for any project or site that is even remotely important.
But if you want something to mess around with, it's nice to have the option.
Website Builder
Website builders have gone out of fashion a little bit these days. Ten years ago they were an essential feature of any web host, but platforms like WordPress have decimated their usefulness. However, some people still like to use them, and if you're one of these people, Hostinger has one of the best in this price bracket.
The user interface is easy to use, and they have a wide range of basic templates and designs that can be used as a starting point. The website builder is included in all of their plans for no additional cost.
Uptime
Uptime is perhaps the most important metric that should be used to determine if a host is worth your time to even start considering as a potential home for your website. We've monitored Hostinger for some time now to see how reliable and steady their hosting is, and we're very impressed.
They have managed to achieve an exceptional 99.99% uptime record over the various studies and tests we looked into during our research for this review. What's more impressive is that this uptime was not limited to their more expensive plans, their entry-level plans were just as good.
Who is Hostinger Best for?
Hostinger has the whole range of services starting from the first-time webmaster to advanced VPS and dedicated hosting. As such, it's a good choice for small businesses and bloggers alike.
Pros of Hostinger
They offer one of the most competitively priced hosting plans on the market with their premium package
WordPress websites hosted with Hostinger are exceptionally fast thanks to the speed boost their optimizations provide (on premium and business plans)
Their customer support is exceptional, and their live chat agents are often immediately available with no wait times
Their extensive experience in the hosting industry has allowed them to provide 99.99% uptime at a very low price point
The inclusion of a free SSL certificate encourages webmasters to create more secure sites that will rank higher in Google
The one click install functionality allows even complete novices to run a WordPress website on powerful hosting with ease
Cons of Hostinger
Their "WordPress Hosting" is just a rebranded version of their traditional web hosting
Their "Cloud Hosting" is just a rebranded version of their VPS hosting
While their free hosting is a nice option to have, it is slow, insecure, and unreliable – it is not suitable for use with anything other than test projects or for learning
The basic web hosting package only allows for one email address, which will limit webmasters who only have one website but need more than one address
Conclusion
So there you have it, an unbiased overview of Hostinger and all of the services that they provide. When you're dealing with companies down at this end of the price bracket, it can often be hard to determine which ones are excellent value for money, and which ones are just cheap rubbish.
We're not going to sit here and tell you that Hostinger is the fastest, greatest host on the planet – because they're not. They're a budget host that offer decent services at a very affordable price point. If you're not looking to spend upwards of $50 to $100 per month on hosting, then Hostinger is a brand that is more than worthy of your consideration.
We think they are excellent value for money, and we highly doubt you'll be disappointed with their services. We recommend you add them to the top of your shortlist.